Dudley's worst fears were realised when hordes of English Defence League (EDL) supporters descended on the West Midlands town on Saturday 17 July.
Racist and violent
The EDL's invasion of Dudley has again exposed the organisation – which has links to the British National Party and other fascist groups – as deeply racist and violent.
The EDL's return visit to Dudley was part of its plans to bring anti-Muslim racism and hatred to multiracial, multicultural towns and cities over the summer.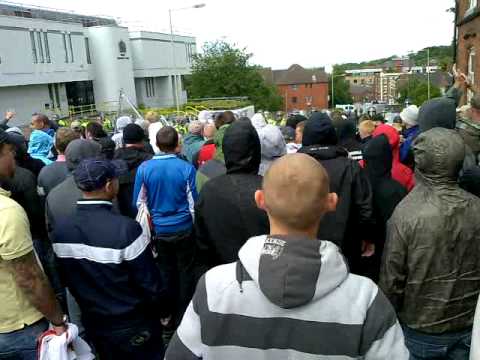 But despite calling a national mobilisation, the EDL only managed to attract some 500 of its hard core supporters to Dudley. They were heard chanting offensive anti-Muslim slogans.
The EDL rally quickly descended into an orgy of violence (see video) – despite the EDL's promises that its event would be "peaceful".
Smashed windows
EDL supporters attacked local shops, smashed car windows and threatened locals as they rampaged through town following the end of their "event". Police are investigating damage to a Hindu temple.
>> Click to see photographer Jonathan Warren's pictures
In contrast half a mile away a peaceful event celebrating "One community, many cultures" attracted some 350 local people of different faiths and backgrounds. The One Community rally, supported by Dudley Unite Against Fascism, local trade unions, councillors and the town's interfaith forum heard how the EDL were a threat to all the people of Dudley.
Antiracists joined with local Muslims to stand vigil over Dudley Mosque ― which has been under constant threat from EDL mobs.
Rose Cragg, from West Midlands Unite Against Fascism, is calling for an inquiry into the EDL violence. She said:
The people of Dudley have said again and again that they do not want the racist thugs of the EDL here. Their visits always end in disruption and violence. We want to know how this could have happened and we pledge to do all we can to make sure it is never repeated.
'No place in Dudley for EDL'
In a statement, Dudley Council leader Anne Millward said:
We are extremely saddened that Dudley has again been targeted by the English Defence League. Yet again this group of outside extremists have shown they are incapable of demonstrating peacefully and have brought public disorder and violence to our town.

While the number of EDL protesters was significantly fewer than their protest in April, those that did come appeared to be intent on causing trouble.

I hope the drop in numbers from around 1,500 to less than 500 is a result of more people seeing the EDL for what they are and recognising that they have no place in Dudley and make no positive contribution to local issues.