A delegation of UAF activists went to Amsterdam to join a 2,000-strong antiracist demonstration in the city yesterday.
The antiracist demo was called by Platform Tegen Vreemdelingenhaat (Coalition Against Xenophobia) to oppose moves by the English Defence League to launch a Europe-wide group of "defence leagues".
The EDL is an organisation of racist thugs with links to the British National Party and other fascist groups. But its Euro Defence League launch was a miserable failure, with a few dozen participants.
UAF national officer Martin Smith addressed the far larger antiracist rally. He warned that racist and fascist groups across Europe are growing and urged antifascists and antiracists to join together against this threat.
The video shows part of Martin's speech, exposing the links between Dutch racist politician Geert Wilders and the EDL.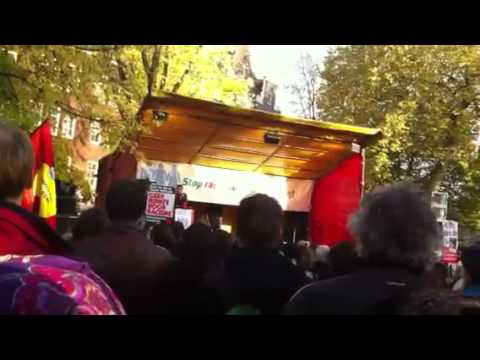 Video: from MrWonkish
Pic: by Kelvin Williams