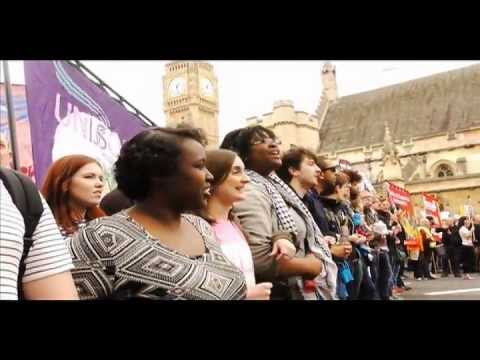 Around 1,000 antifascists prevented the British National Party from marching in central London today, while around the country antifascists outnumbered demonstrators from the English Defence League (see list of towns and cities, below).
The racists and fascists wanted to capitalise on the murder of soldier Lee Rigby by stirring up a day of racist hate. But they have failed, outnumbered by antiracists and antifascists who turned out to show unity and ensure our communities are not divided.
BNP leader Nick Griffin called a national mobilisation in London, intending to march from the Houses of Parliament in Westminster to the Cenotaph in Whitehall.
But the 150 fascist BNP members could not even leave their assembly point.
Instead, hundreds of antifascists marched down Whitehall towards the BNP, singing: "We are black, white and Asian and we're Jews" and "There are many many more of us than you".
The demo, called by Unite Against Fascism, was lively and upbeat, with plenty of noise and trade union banners and placards on display.
The antifascist demonstrators held their ground for five hours to ensure the fascists did not pass.
Elsewhere, the EDL attempted to mobilise, promising dozens of separate demos. Some of these failed to materialise at all. At others, they were outnumbered by antiracists and antifascists. Here are figures for some of the EDL demos and UAF counter-protests.
Congratulations to all the antifascists in London and across the country who stood up to the racists and fascists and scored an important victory.
Manchester 200 UAF to 40 from EDL splinter group NWI
Leicester around 200 UAF to 70 EDL
Norwich 100 UAF to 10 EDL
Sheffield 600 UAF to 58 EDL
Hitchen 20 UAF, no show by EDL
Leeds 300 UAF to 25 EDL
Oxford 40 UAF to 2 EDL
Edinburgh 300 UAF to 100 Scottish Defence League
Bristol 40 UAF to 10 EDL
Southampton 150 UAF to 20 EDL
Loughborough EDL didn't appear
Romford EDL stayed in the pub