Following Donald Trump's retweeting of Britain First's Jayda Fransen, anti fascists may find this updated version of the fact sheet of use.
We've produced a factsheet that you can download, print and distribute to warn people about the dangers of fascist group Britain First. Use it in your local area, your workplace, school or college, or online.
Straight from the BNP
Britain First (BF)  is a splinter group from the fascist British National Party.
It is small, but has gained a worryingly high profile, with leader Paul Golding appearing on mainstream TV shows, following U S President Trump re tweeting anti Muslim images and videos, which BF deputy leader, Fransen had originally tweeted.
Trump's actions and indifference to re tweeting a fascist group, rightly shocked millions, internationally. MP's, trades unionists, campaigners, and many more, all registered their disgust both at Trump and the subsequent publicity for the fascist group. Trump, of course,  had also fuelled outrage, when criticising anti fascists at Charlottesville, even following the murder of Heather Heyer, by a neo Nazi. His islamophobic 'Muslim ban' and vile racism encourages both BF and homegrown, U S nazis, though the latter face inspiring opposition form anti fascists.
Though BF have had interviews in several outlets, following the Trump episode, this may remain a short term boost. Their conference, held days after the Trump tweets, was in a secret location and had no more than 80 people there. Anti fascists eventually located the venue, bu BF had already left, after a rally, not a conference, by normal standards. UAF will continue to work broadly and speedily to oppose BF both on the streets and electorally. Fascist organisations can grow quickly in times such as the present, particularly when many mainstream politicians such as Trump and others in Europe, are aping far right rhetoric, in relation to refugees, for instance.
BF's last demo, in Bromley, pictured below, saw just 44 of them attend, being outnumbered by over 200 anti fascists on the UAF counter protest.
Their associations with overseas nazis continues. Twice has a notorious, ex priest from Poland, been refused entrance to speak at BF rallies in  the UK  due to  his anti Semitic views and propaganda.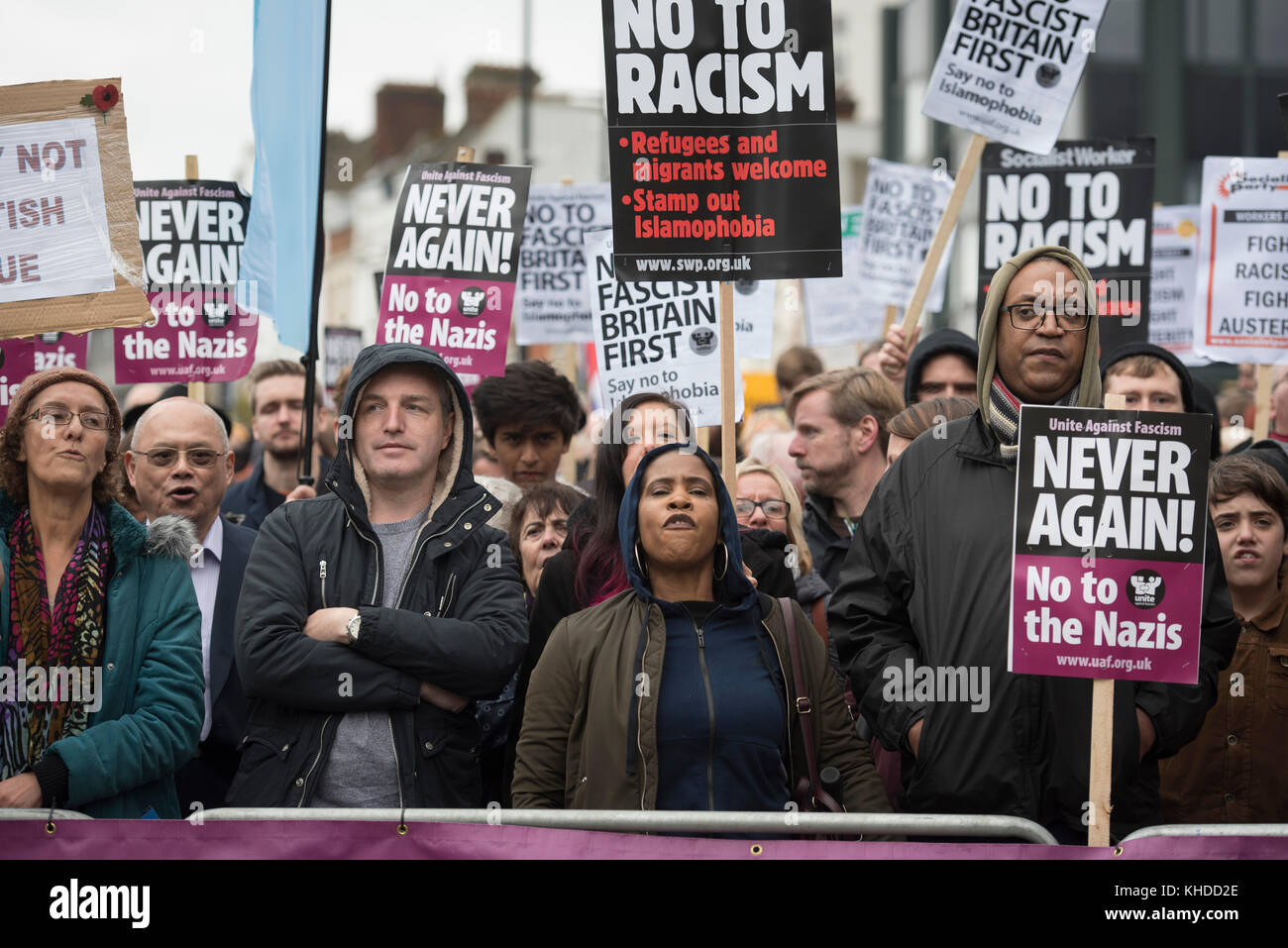 Fransen was at the recent nationalist march in Warsaw, where, around 40, 000 right wing and open nazis marched. She was quoted in Poland saying, "There is a cancer moving through Europe and that is Islam. Our children are being bombed, our children are being groomed and our government does nothing".
Golding, and Fransen both face charges of religously aggravated harassment and have to sign on regularly at Bromley police station. Fransen has again been arrested for a speech she made in Belfast in August,  and was charged by police in Northern Ireland with hate speech.
The fascist killer of Jo Cox MP, shouted out, 'Britain First', as he carried out his foul deed. Searchlight magazine have useful information on this terrible matter, http://www.searchlightmagazine.com/2016/12/more-questions-than-answers-a-searchlight-investigation/
(Griffin's BNP aimed to hide its real politics, but it is a Holocaust denying fascist party. It became riven with in-fighting as senior figures fell out with Griffin and left to form their own organisations, including Britain First. Britain First comes from the BNP, with its foul politics)
Ex-BNP leaders
Britain First was set up by former BNP communications officer Golding—who was also a BNP councillor between 2009 and 2011 in Kent—and Jim Dowson, who ran the BNP's substantial fundraising operation.
Dowson has criminal convictions that include possession of weapons and is connected with Loyalist organisations in Northern Ireland, where he was involved in organising Loyalist "flag protests".
A handful of other senior BNP activists followed Golding and Dowson into Britain First. Britain First also has links with ex-activists of the English Defence League, fascist street thugs who have targeted Muslims. Britain First have a "security crew" (heavy mob) who are part composed of ex Nazi terror group members of Combat 18, for instance. They effectively wear political uniforms, despite this being banned in the 1930s, suitably enough against the fascist Blackshirts, of Oswald Mosley. (Britain First was on the masthead, of Mosley's fascist paper, Awake!)
Dowson was behind BF's anti-Muslim social media output, which Trump re tweeted. His backing  for Serbian nationalists in Kosovo is something he share with Nick Griffin, who he has linked up with again. Dowson was barred from Hungary  this year "on the recommendation of the counter-terrorism centre". He has also been linked to ex EDL leader, Tommy Robinson and far right hate figure, Anne Marie Waters.
BF has had no electoral success.  Golding stood to be mayor of London, but took only 1.2% of the vote compared with 44% for the winner, Labour's Muslim candidate, Sadiq Khan. Golding turned his back on Khan at the count, for which he was widely criticised.
Squads on the street
Britain First gained notoriety through sending squads of its so-called "defence force" of activists,  to stage "invasions" of local mosques. Its squads, complete with armoured jeep, have also staged provocative "patrols" in areas with large Muslim populations.
These actions have been small scale—Britain First cannot mobilise many activists for now—but they are aimed at intimidating Muslim communities and garnering publicity. Mosques and local communities have refused to be intimidated, in East London, for instance, BF have been chased off from near the East London Mosque. In 2016, BF were banned from attending any mosque after their foul behaviour. However, they have sailed close to the wind over this, at least once, subsequently.
Facebook presence
Britain First also has a very big Facebook presence, out of all proportion to its real forces. It puts out streams of often innocent seeming images aimed at exploiting people's sympathy, such as pictures of murdered soldier Lee Rigby or denunciations of cruelty to dogs. It now stands at over a million Likes, and many Trump supporters from overseas are frequently on the page.
Many people like and share these items without knowing where they originate—but the Facebook presence helps Britain First to look bigger and more influential than it is.
Standing in elections
Like the BNP, Britain First aims to stand in elections. It put candidates up in Scotland and Wales at the European election, although they got derisory votes—1% in Scotland and just 0.9% in Wales.
The Electoral Commission was forced to apologise to the family of Lee Rigby for failing to prevent Britain First from exploiting his name by including it as part of their ballot paper description.
Bust-up at the top
In July 2014, Dowson suddenly quit Britain First, citing disagreement with the strategy of "mosque invasions". He may yet return in 2018.
It remains important, especially after Trump's re tweets,  that Britain First or similar fascist groups are not allowed to grow. If the party stands in future elections or attempts to build on its "mosque invasions" to demonstrate in numbers, we will need to be ready to mobilise against it.
The far right remains fractured but an ominous threat in the UK, witness National Action and charges relating to terrorism of some of their members. Fascists are looking to organise through the Football Lad's Alliance, an Islamophobic, street group.  UAF will work to ensure that in 2018, the likes of BF remain small and marginal.