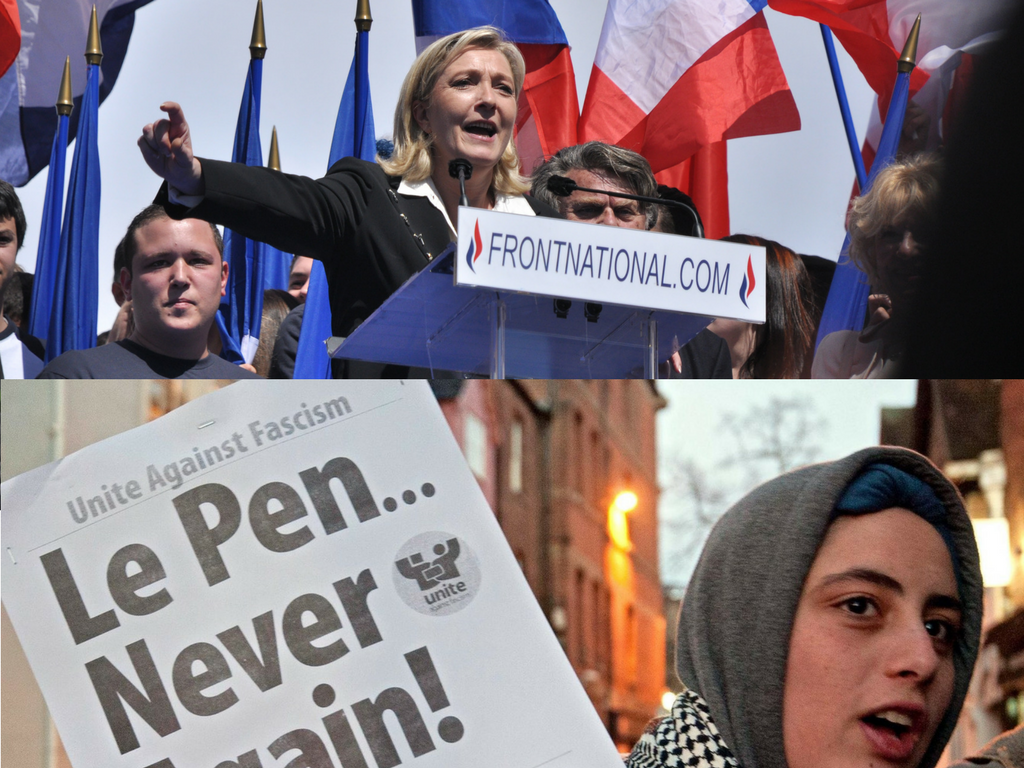 The advance of Marine Le Pen to the second round of the French Presidential election is a call to arms for anti-fascists across Europe.
Le Pen recently denied the role of the wartime Vichy puppet government in rounding up Jews for the Nazis. She claimed that the infamous Vald'Hiv affair, where Jews were corralled before being sent to death camps, was not France's responsibility. Jewish groups described this claim as an 'insult to France'. Her father and founder of the FN, Jean Marie Le Pen was notorious for downplaying the Holocaust, describing it as a "mere detail of history".
Le Pen has frequently attacked Muslims, at one time comparing Muslims praying in the streets to the Nazi occupation. She  has called for the headscarf to be banned, for the banning of non-pork meals in French schools, and for the surveillance of French mosques.
We call for all who oppose fascism to join us tonight in beginning the fightback ahead of the second round.
Alongside Islamophobia and anti-migrant rhetoric in France and emboldened by Donald Trump's win, the Front National's Marine Le Pen is in the strongest position in the party's history after the first round of the French Presidential elections.
The prospect of a party with it's roots in fascist Vichy France and a former leader convicted of holocaust denial taking national power is a horrifying one for all anti-fascists, Muslims and minorities.
We call on all those who oppose fascism to join us in a rally, to dicuss Le Pen, the rise of the far-right in Europe and resistance across the continent.
Join us 7pm on 2nd May at Conway Hall 25 Red Lion Square, London WC1R 4RL
---
Donate to Unite Against Fascism
UAF's campaigning work relies on donations from our supporters at a time when the far-right are seeking to make gains across Europe it is crucial to maintain anti-fasicst organisation. All donations are greatly appreciated.
To make a one-off donation or regular donation to UAF 
click here
and choose how much you want to give on our secure payment page.
---