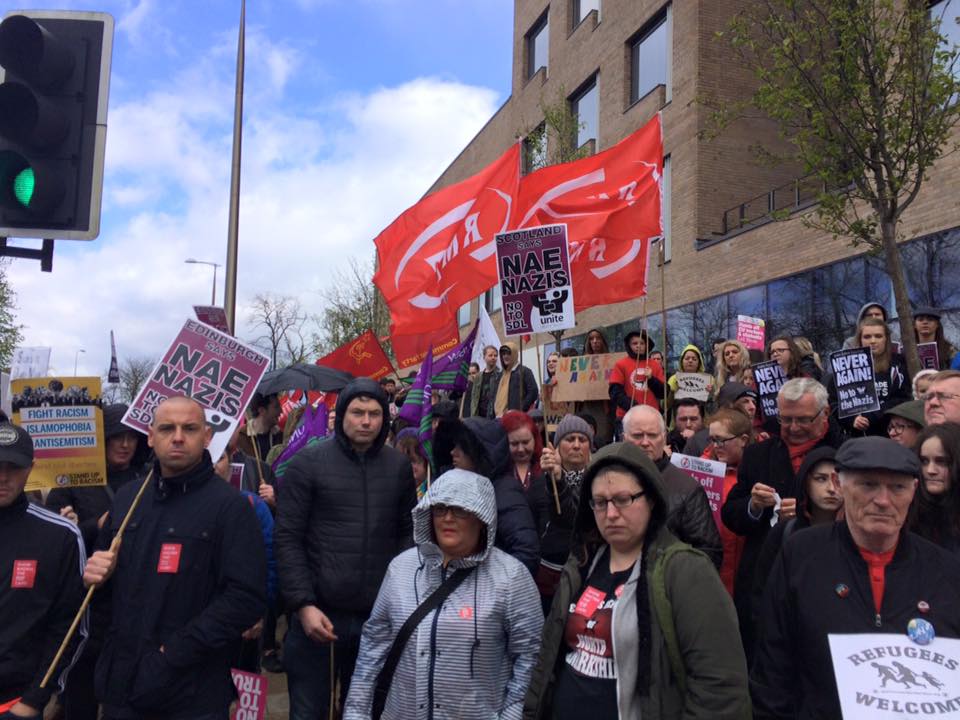 Well done UAF Scotland and anti fascists for a third successful, anti fascist mobilisation in around six weeks!
On Easter Saturday, around 400 anti fascists humbled the rump of the fascist Scottish
Defence League, in Wishaw.  The broadly based UAF demo,
which was supported by all the major trades unions, and 'Refugees Welcome',
in Wishaw was big and lively. Fascists are attempting in North Lanarkshire to whip up anti Syrian, refugee sentiment. Their hate though fell on deaf ears locally. The STUC backed the demo, helped with organisation and there were
several union delegations. Show Racism The Red Card also mobilised for Wishaw.
Just 50 fascists ventured out, some from as far as Blackburn, the so called North West Infidels. Their open Nazism eg sieg heiling,  angered locals and once again, only a heavy police presence enabled the fascists to assemble. Nazi splinters such as the Infidels mixed with ex EDL thugs. Of note is that this was another tiny turnout for the supposed, Scottish Defence League.
Labour council leader, Jim Logue  and  Motherwell and Wishaw SNP MP Marion Fellows, addressed anti fascists, alongside numerous trades unionists from Unite the Union, UCU, PCS, EIS and others. It was noticeable that again fascists were bused in from out of town, whilst anti fascists were overwhelmingly from the area. This reflects weeks of work put in by anti fascists since the SDL announced their poisonous intentions.
The day saw few if any from Wishaw join the fascists, whilst many from the town expressed support for anti fascists stance. Clearly fuelled by excessive alcohol, the draggle of fascists were escorted back to the train station, with the cries from anti fascists ringing in their ears. As the Scottish Refugee Council told UAF Scotland, "This isn't… an us and them situation – most Scots have shown that they can and will stand together with refugees against racists parachuting into towns and cities trying to stir up hatred and resentment." 
The SDL, like other splinter groups, limp from town to town, and are essentially composed of hardcore fascists. UAF Scotland, with locals from Wishaw and local trades unions, showed again that there really is 'Nae place for Nazis', locally.