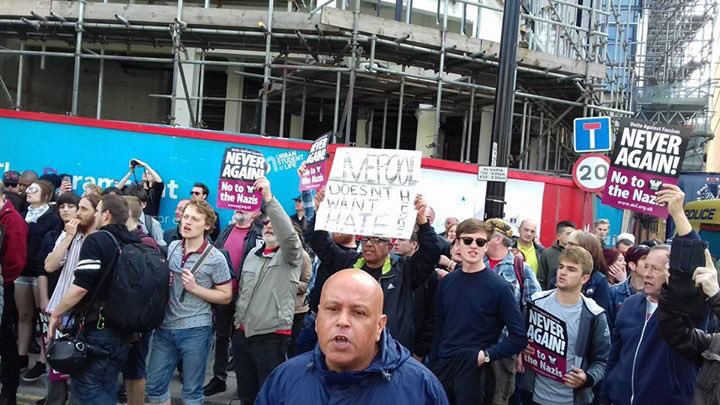 Edl confronted near Lime St Street station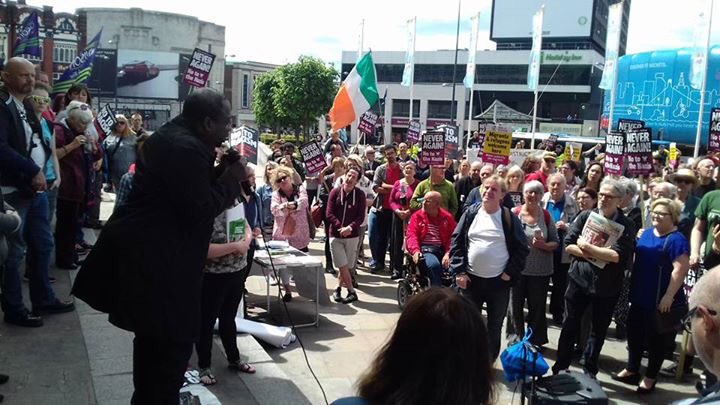 UAF's Weyman Bennett addresses part of the rally
Before the horrific attack in London on Saturday night, (to which of course, UAF sent deep condolences to all those affected) the fascist English Defence League (EDL) were humiliated on Merseyside. The EDL had cynically called a demonstration in the city, after the Manchester attack, in order to try to regroup and scapegoat Muslims. They picked on the wrong city.
The EDL were stopped from marching to Derby Square in Liverpool, by a protest called by Merseyside Unite Against
Fascism [UAF]. Well over 1000 people joined UAF's protest, alongside other anti fascists,  which completely outnumbered the
EDL demo which mustered at most, 70 people from across the country
Trade Union support
Merseyside UAF's protest was supported by seven Regional Trades Unions: CWU, FBU, GMB, NUT, PCS, UNISON and
Unite, over 25 local Councillors, Show Racism the Red Card and others.  The day started at noon with the UAF rally featuring speakers from the local trade union movement and cultural figures from the city,
including: Deputy Mayor of Liverpool Ann O'Byrne; Julie Ward MEP; Lynn Collins, Regional Secretary of North West TUC; Martin Cavanagh of the PCS union; Tony Kearns, acting General Secretary of the CWU; Writer Alan Gibbons; Mark
Rowe, local Regional Secretary of the Fire Brigades Union, and others.
While the EDL bussed people in from outside of Liverpool, the Merseyside demonstration was made up of people from the area. The FBU, PCS and CWU brought brilliant delegations along throughout the day.
After being escorted by huge numbers of Police from Lime St to the Lord Warden pub, where they were confronted by hundreds of anti fascists the EDL attempted to continue their protest, but their march was cut short near
Lime Street as well over 1000 protestors stood in their way. The EDL were composed of ex Combat 18 thugs and sundry, racist individuals. Ex Nick Griffin minder, Alan Spence, rubbed shoulders with someone who carried a Loyalist, paramilitary banner, from the UVF.
The ingenuity, boldness and imagination of anti fascists was tremendous. School students, Councillors, the local James  Larkin Society, OAP'S, veteran anti fascists, all united in their determination to make sure that No Pasaran was a reality. Everton fans, Liverpool fans,  Tranmere Rovers fans stood together and blocked the EDL's path. It was moving too to see the number of Justice for 96, Hillsborough, banners carried by campaigners. Merseyside ex dockers also joined the crowd.They all succeeded!
The EDL walked alone
There were many wonderful moments eg  pensioners scooping up horse manure and dispensing it on EDL members. A mass sit down at Lime St, opposite St Georges Hall, led by a brave woman, was a precursor to blocking the EDL  Anti fascists sang Beatles and John Lennon songs like Imagine, Get Back, among other examples of great Scouse wit. After roughly 40 minutes, it seems that police told the EDL they were unable to force them through the huge crowds.
Merseyside had turned out for the fourth occasion in recent times and stopped the fascists. It was a great moment when the EDL had to turn around and eventually start their bedraggled crawl back to Lime St station. The cheers echoed around to the sound, to gales of laughter, of the theme tune of the Benny Hill show. The EDL look demoralised and very nervous. Anti fascists ensured that the EDL were harried on their way. The fascists looked like the small group of racists that they are. The looks on their faces said it all.
Paul Jenkins of Merseyside Unite Against Fascism said, "Well done to the
people of Liverpool!  The fascists said that they were going to march through Liverpool but we stopped them. Years of consistent, broad-based campaigning has pushed the EDL back from the point where they once mobilised
thousands, to where they could only muster a pathetic
gang of at most 70 fascists from out of town on a national demonstration".

UAF Joint Secretary, Weyman Bennett, said, "It's fantastic what people in Liverpool have done today. Yet again, Merseysiders have ensured the fascists have not passed. I congratulate Merseyside UAF and all who have worked so hard to ensure today has been successful. The EDL are small but wish to grow on the back of the terror attacks. We will not allow them to. Their fascist poison will be opposed by us at every step. Racist divide and rule must be resisted by anti fascists".
The EDL, following the appalling attack in London on Saturday, have called a march on Parliament on June 24th. Their Merseyside defeat seriously undermined their meagre forces, they will hope to try to come back. UAF has called a demonstration to say that racists like the EDL will not divide us in the wake of the terrible attacks. We ask anti fascists and anti racists to join us in London, on June 24th, details below.
https://www.facebook.com/events/314327905673793/