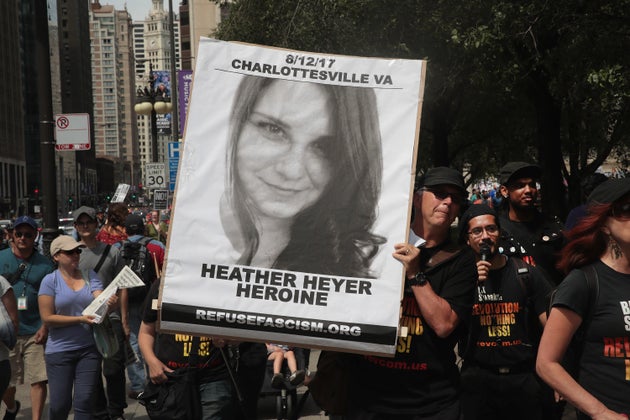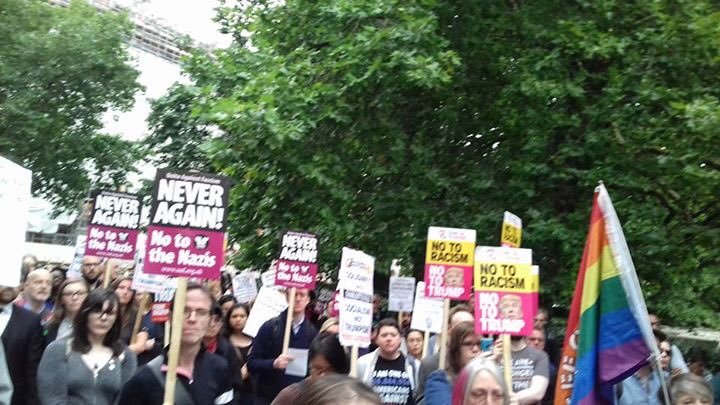 Unite Against Fascism (UAF) continue to hold a number of vigils/protests in solidarity with U S anti fascists,against the shocking scenes of Nazis marching in Charlottesville on Saturday, which saw anti fascist, Heather Heyer killed and many injured by fascists.
The death of Heather Heyer and the assault on anti fascists in Charlottesville is the shocking result of Donald Trump's America.
Trump's failed to condemn, for 48 hours, the assaults by American fascists. He finally criticised the likes of the Klu Klux Klan only after pressure and widespread criticism, from anti fascists and many others. Saturday saw armed militias dominating Charlottesville and black people attacked, alongside vile anti Semitism. Anti fascists bravely resisted such attacks.
At short notice,  around 150 anti fascists assembled at the US Embassy, in London. A number of U S citizens attended. Several spoke, very powerfully. Margaret, particularly, spoke of how her grandmother had experienced Nazi rule in eastern Europe. Margaret related how her grandmother saw 'children being thrown on trains by SS men to the death camps. She tried, at immense risk, to stop such barbarity. From then on she was a lifelong fighter against fascism. She inspires me, always'.
Protests were also held in Liverpool, Edinburgh, Glasgow, Cambridge and in Cardiff, where around 120 people gathered.
Messages of support for the UAF vigils came from the RMT and CWU trade unions. PCS trade union  General Secretary Mark Serwotka, sent these words;
"Our thoughts are with the family and friends of Heather Heyer, an anti-fascist civil rights activist murdered while standing against the absolutely despicable racism and hate of white supremacists and neo-nazis in Virginia this weekend.
PCS sends solidarity to the many anti-fascists injured in Charlottesville standing up to fascism, racism and hatred, and to all those standing up to the utterly unacceptable and  disgusting rise of white supremacism and neo-Nazism in America and elsewhere. The fight against fascism and racism is a shared fight, and there is only one side.
The hatred seen over the weekend in Virginia is not a new or sudden development. But a growing climate of public anti-immigrant racism and hate has emboldened and encouraged such abhorrent views and the contribution to the current situation both in America, and here in the UK cannot be ignored.
We are clear that fascism and all forms of racism must never be normalised and must be fought and defeated at every level, everywhere. Now more than ever, we must stand together against hate. Together we will win."
Other speakers included GMB London Region and Polish anti fascists. Naima Omar from  Stand Up To Racism spoke out against Trump's Islamophobia, which encourages fascists, internationally. She urged all to attend October's Stand Up to Racism conference, http://www.standuptoracism.org.uk/stand-racism-national-conference/
UAF's Weyman Bennett ended the evening, arguing, that the scenes in Charlottesville were reminiscent of the most violent days of the civil rights movement.  Weyman said the death of Heather Heyer was a terrorist attack but Trump's unwillingness to act shows that anything that fails to fit with his racist agenda is simply ignored. "Trump's statements have given confidence to the fascist right in the US. Charlottesville is a terrible warming to anti racists everywhere that we have to stand up against bigotry where ever it raises its head".
UAF Vigils this week:
Birmingham (Wednesday Aug 16)  Click here to view the facebook event
Bristol (Tuesday Aug 15) Click here to view the facebook event
Manchester (Tuesday Aug 15) Click here to view the facebook event
Portsmouth (Wednesday Aug 16) Click here to view the facebook event
Leeds –(Wednesday Aug 16) Click here to view the facebook event