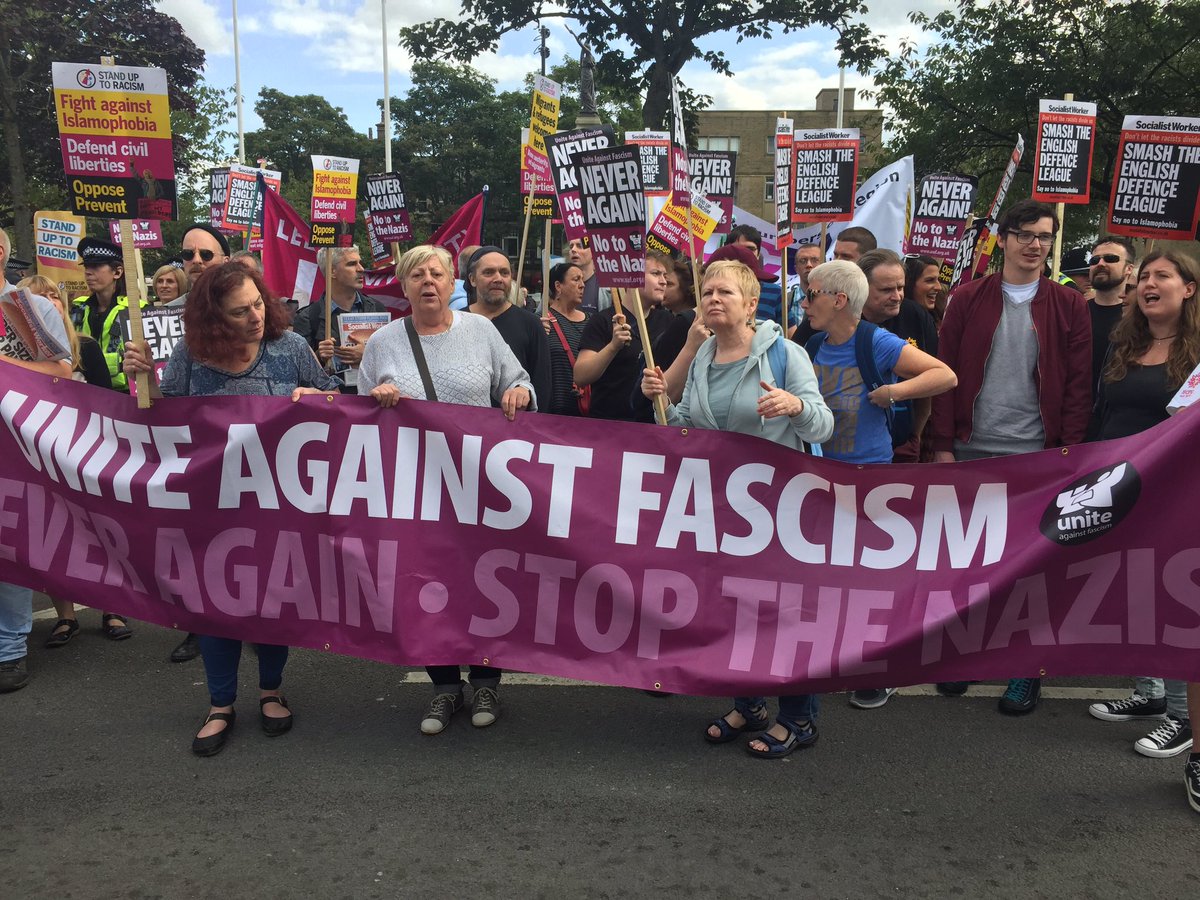 Anti fascists from Unite Against Fascism (UAF) and We Are Bradford, with others, outnumbered a national demonstration of just sixty fascists of the English Defence League (EDL), in the Yorkshire town of Keighley, near Bradford.
Over 200 anti fascists gathered in Keighley and were lively throughout. The EDL numbers are around thirty down on their last recent humiliation in Rochdale, http://uaf.org.uk/2017/07/rochdale-unites-against-fascist-edl/
With them preparing to be in Newcastle next weekend, anti fascists there are looking to continue the EDL's decline, https://www.facebook.com/NewcastleUnites/photos/gm.222854968241601/1377282075718576/?type=3&theater
The EDL had intended to march in both Keighley and the city of Bradford, supposedly out of concern for the victims of recent child abuse. Such crimes are appalling, of course but most know the EDL are not interested in justice for the victims, but only in fermenting Islamophobia.
The EDL retreated from the idea of being in Bradford after coming under pressure, following vile, Islamophobic threats sent to Muslims in Bradford, in the last week. Anti fascists were to counter the EDL in Bradford, but after the EDL's climbdown, outmatched the EDL in Keighley.
Support for the UAF/We are Bradford rally and march, was broad and diverse. Trade unionists from the college workers union, the UCU, PCS Union, the newly formed teachers union, the NEU, Unison, and the postal workers union, the CWU, played a key role. Support came in from local Muslim youths and Black Lives Matter activists.
After rallying by the War Memorial, anti fascists marched as close to where the EDL were as was possible, given the  large police presence. Anti fascists were from Keighley and surrounding parts, unlike the EDL who were from various places. The EDL were a motley crew. Several were openly drunk and four were arrested for public order offences.
Appallingly, again, John Banks was able to speak for the EDL This poisonous figure, called in London, in June, for "mosques to be burnt" and for "Muslim women to be attacked". Such Islamophobic incitement has yet to see Banks be made accountable for his vile threats.
The EDL were only able to march a short walk, due to police facilitation. They were jeered by some locals and told they 'were not wanted here'. Their 'speeches' were Islamophobic rants. By contrast, anti fascists heard from trades unions mentioned above and Muslim activists, disgusted by both the child abuse and the EDL seeking to blame all Muslims for such crimes.
With numbers even smaller than for their Rochdale demonstration, some in the EDL will be wondering what is the point of going to Newcastle? The EDL will look to regroup in Newcastle. However, anti fascists have an excellent history in the city and are working hard to see the EDL remain marginal in the area. The EDL's road to nowhere continues, anti fascists will maintain opposition to such vile fascists.