Some of the anti fascists in Poland
Tens of thousands of 'Nationalists' marched alongside open nazis in Warsaw, on Polish Independence Day last Saturday. At the head of the march and within it, were thousands of nazis, from both Poland and across Europe. Fascists leaders met and mingled with marchers. For instance, there were Hungarian Jobbik party vice president László Toroczkai, Italian Forza Nuova leader Roberto Fiore, Slovak holocaust denier Milan Mazurek and Manuel Serrano from Spain's National Democrats.
In recent years the fascists have begun mobilising people behind their propaganda on Poland's Independence Day. The so-called "Independence March" is much more sizable than all other far right mobilisations, over the year. But importantly, anti fascists are organising , on a broad, principled basis, on the same day as the far right and fascists.
(Britain First's Jayda Fransen and ex EDL leader, Tommy Robinson also attended. What's left of the BNP sent a small delegation)
Some marched under the slogan "We Want God!", taken from an old Polish religious song that US president, Donald Trump, quoted during a visit to Warsaw this year.  'Christian values' were encouraged by various speakers, and 'democracy' was seen as opening the door to communism, by many present.
Not a few held banners of a  falanga, a far-right symbol from the 1930s. Anti Semitism was expressed by large numbers of the fascists, as they shouted, " "White Europe of brotherly nations" and "Pure blood, sober mind". All forms of 'left' views and parties were constantly held up to aggressive denunciation.
Incredibly, people carrying a banner to show the similarities between today's fascists and Hitler's Nazis were arrested for propagating fascism because it had a swastika on it! Many of the police were overly accommodating to the fascists.
Polish anti fascists report that "Before the march one brave woman unfurled a banner in a Catholic mass attended by Nazis. It quoted former Polish pope John Paul II saying that racism is a sin. She was roughly bundled out of the church. A group of eight courageous women infiltrated the fascist march with a banner saying, "Stop fascism". They were kicked, spat on and dragged out of the march by stewards. The police were nowhere to be seen".
Below, Fascist insignia from Saturday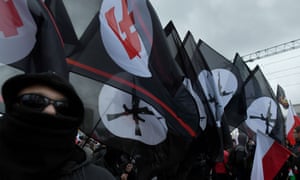 Since their election in 2015, the racist right wing Law and Justice party, has developed a right wing programme, which the fascists have fed off from eg constant attacks are made against refugees through the state broadcaster. 
Anti fascists held a march of a few thousand, and a number of fresh people were drawn to it.Many on the left in Poland organised for the anti fascist demonstration eg—the  new left party Razem (Together) which got over half a million votes in the last election— trade unionists, LGBT+ activists Greens, and others.
Polish anti fascists go on to report, "Significantly the campaign to label the fascists as "fascists" has begun to bear fruit. Many more people are aware of the fascist nature of the Independence March organisers. Contrary to some reports the fascist march was not the biggest ever, with both the police and Warsaw council's estimates smaller than last year. And this year's police estimate of 60,000 was a huge exaggeration, meant to please interior minister Mariusz Blaszczak.
"He had said the march "was a beautiful sight". "We are proud that so many Poles have decided to take part in the celebrations related to the Independence Day holiday."
They go on to say, "The reaction in Poland and abroad has caused the government to retreat a little. The culture minister was wheeled out on Sunday to say that the government does not support the racist banners on the march. And Blaszczak claimed not to have seen them".
This latest far right march and its size have had an effect those behind it, won't welcome.  Anti-fascists in Poland say that many are starting to see the threat of the far right and can be won against them.  UAF sends solidarity to all who tried to counter the fascists on Saturday. Their actions mean that the fascists face serious opposition.