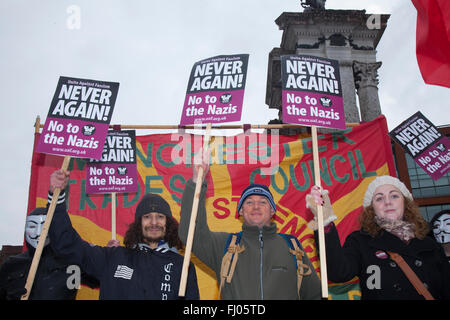 BROTHER OF ARENA ATTACK VICTIM SUPPORTS STATEMENT AGAINST FAR RIGHT BOOK LAUNCH
MPs, MEPs, Councillors and Trades Unionists support anti-fascist protest
(Contact:  Paul Jenkins, Unite Against Fascism, 0750 737 3609.)
The brother of one of the 22 people killed in the Manchester Arena attack, is part of a group of politicians, trades unionists and anti-fascists who are opposing a far right book launch in Greater Manchester.
The founder of the far right English Defence League (EDL), 'Tommy Robinson' plans to hold the launch this Friday, 3rd November. A Unity statement and a protest on Friday, in opposition to the book launch, is being organised by anti-fascist coalition Unite Against Fascism (UAF).  UAF says that Robinson is seeking to bring division to Manchester. (Details of the UAF protest, here), https://www.facebook.com/events/1395254483877130/?acontext=%7B%22ref%22%3A%22106%22%2C%22action_history%22%3A%22null%22%7D
Dan Hett, brother of one of the 22 people killed in the Manchester attack in May, is supporting Unite Against Fascism's statement against Tommy Robinson's launch.
Mr Hett has said:
'I am wholly in support of standing up against Tommy Robinson's 'book launch' in my home city of Manchester. There is only one reason he chose this city, and that is the attacks we suffered so recently. As this city is still healing, Tommy has cynically booked his event right at the epicentre, in order to maximise press and commentary around launching his book of anti-Islam propaganda – using the extremist attack to further his own fascist agenda, and line his own pockets. Manchester is a vibrant, creative, multicultural city that is still reeling from the attack on it's people, and we stand together to tell Tommy and his followers that they are not welcome here.'
UAF's Unity Statement has also been signed by a number of politicians, trades unionists and others, including:  MPs Kate Green, Dan Carden, Andrew Gwynne, Afzal Khan and Derek Twigg; MEPs Theresa Griffin, Julie Ward, Wajid Khan; Manchester City Council Leader Richard Leese; a number of Councillors from Trafford and across Greater Manchester; and North West Regional Secretaries from the following trades unions: the CWU, FBU, GMB, NUT, PCS, UNISON and Unite.
UAF say that Tommy Robinson' – real name Stephen Yaxley Lennon – has a history of organising 'fascist' groups, including the BNP, British Freedom Party, and the English Defence League (EDL), which he set up in 2009.
The Unity statement says that Robinson:  '.. organised a series of Islamophobic EDL demonstrations across Britain, which involved racist chanting, violence and Nazi salutes.  Only in June 2017, did Robinson attack an Asian male at Ascot Races.'
UAF's statement also says:  'Robinson recently organised an anti-Muslim Demonstration in Manchester on 11th June, in an attempt to exploit the recent, horrific terror attacks at the Arena, in order to scapegoat Muslims.  Our thoughts are with all those affected by these terrible attacks.  Greater Manchester is a proud, multicultural area which is made up of people of all races and religions and we will not be divided – Islam is not to blame for terrorism.  We oppose anti-Semitism, Islamophobia and all racism.  At the centre of the June demo were fascists who have been members of groups such as the National Front, BNP and Combat 18.'
Kate Green MP for Stretford and Urmston said:
'Mr Robinson's political opinions are vicious, divisive and dangerous, and he is not welcome in our diverse, multicultural and friendly communities here in Greater Manchester.  I abhor all forms of discrimination, including anti-Semitism, Islamophobia, and all forms of racism, and I warmly support Unite Against Fascism in their campaign against this event.'
Unite Against Fascism will be holding a protest on Friday evening.
Paul Jenkins of Unite Against Fascism said:
'Tommy Robinson – a man with a record of organising violent, EDL demonstrations – is seeking to bring division to the united, multicultural city of Manchester.  Robinson has said he will bus people in from outside to his book launch.  We saw where that led in June, when Robinson's protest in Manchester erupted into violence and open racism.  The majority of people in Greater Manchester oppose racism, and stand united against the racism and violence that Robinson seeks to whip up.  Robinson is the enemy of freedom of speech.  We defend  free speech and oppose attempts by a fascist to use it – as Hitler did – in order to destroy free speech for everyone else.  We urge everyone to join Unite Against Fascism's unity protest to say no to Tommy Robinson.'