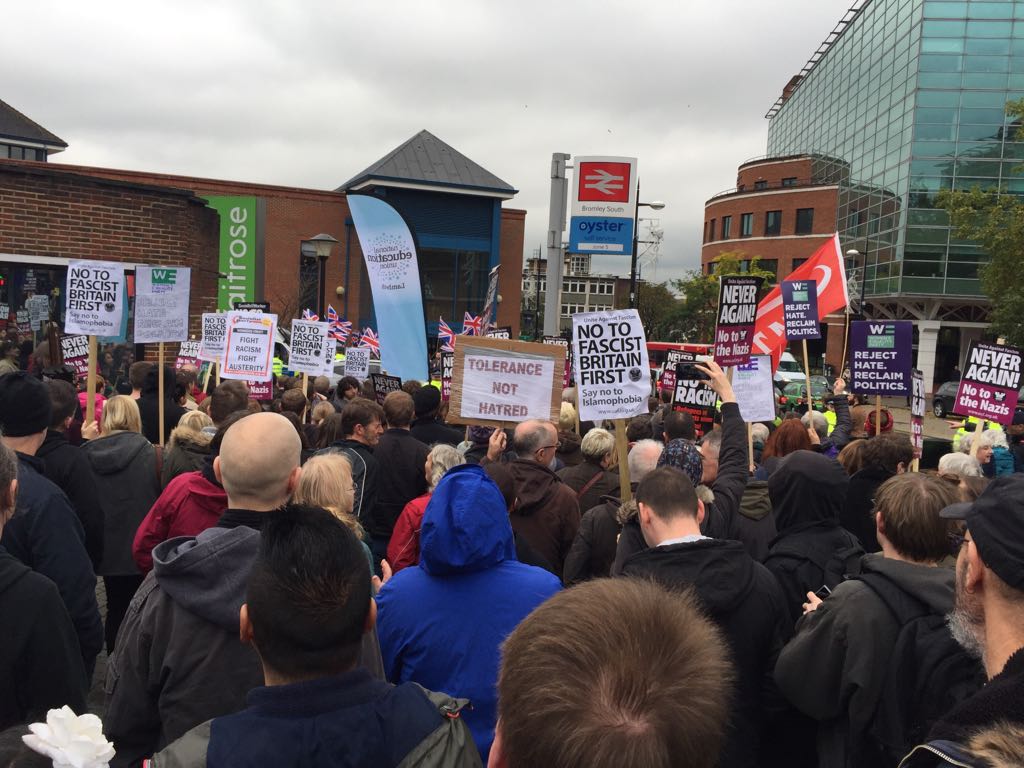 Opposing Britain First in Bromley, recently
Unite Against Fascism's Joint Secretary, Weyman Bennett, has strongly criticised U S President Donald Trump's re tweeting of the notorious UK fascist, Jayda Fransen.
Fransen has been charged, along with Paul Golding, Britain First's Leader, with religiously aggravated harassment over leaflets distributed in Kent,this year. She was also arrested in Belfast, over an alleged inflammatory, recent speech, just this month! Fransen is due in court in a matter of days in relation to this
Weyman said, "For Trump to tweet a convicted fascist and Islamophobe like Fransen is deplorable and must be condemned. I have just returned from a UAF Educational trip to Auschwitz and Britain First are known for standing in that nazi tradition.
It beggars belief that the most powerful person in the world is re tweeting Fransen's vile views. Britain First rubbed shoulders with fascists in the large, far right demonstration in Warsaw, just weeks ago. They are a poisonous organisation".
(Britain First have on a number of occasions, tried to intimidate Muslims, with their so called Christian patrols. These amount to ex BNP and nazi terror group, Combat 18 members, looking to threaten Muslims outside Mosques. In East London, and elsewhere, members of the community have stopped Britain First from their threatening aims. Britain First are now barred from trying to enter any Mosque, due to such actions.
They also looked to have an openly anti Semitic, ex Polish priest speak at recent demonstrations, but twice has the individual been stopped from entering the UK.)
Weyman went onto say that "we need to keep opposing the far right and their friends – Britain First were greatly outnumbered by anti fascists in Bromley, last month. We aim to keep it that way".
ENDS
For further contacts – call 077340 32314
0208 9717 426