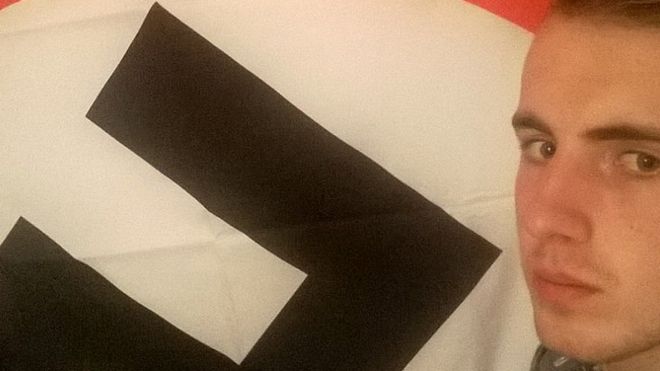 Unite Against Fascism (UAF) welcomes the conviction of Ethan Stables, above, a nazi sympathiser, who wanted to enact a terror attack at a lesbian and gay pride night, in Cumbria. Coming the week after the conviction of the far right, Darren Osborne, for his murderous attack, near Finsbury Park mosque, last year, the case shows again the willingness of fascists to engage in racial and homophobic violence.
Stables was found guilty of preparing an act of terrorism, making threats to kill and possessing explosives. He will be sentenced later.
Stables was stopped by police officers as he aimed to attack an LGBT night in a local pub. Stable's nazi politics were clear from various online, hate messages he had posted on social media. Moreover, he, like Osborne, was influenced by far right propaganda. No far right group has, as yet, been identified with Stables.
His case is reminiscent of the 1999 horror in Soho, when ex BNP member,David Copeland killed three people at the Admiral Duncan, lgbt pub. Copeland bombed and maimed many in two other attacks in Brixton and Bethnal Green. Stables talked of "going to war" with the lgbt community.
It is clear from the cases of Stables and Osborne and future trials of nazi National Action members, that far right activists see terrorism as the only way out of their current cul de sac, status in the UK.
Weyman Bennett – joint Secretary of Unite Against Fascism, said,
"There is a pattern emerging with the British far right. Once again a valued part of our community, lgbt brothers and sisters, faced a fascist whose intent was horrific. If Stables had remained 'under the radar', he may have been able to carry out his foul deed.
Anti fascists have reduced the far right to a situation where terrrorist acts are now increasingly favoured by groups such as National Action and individuals like Darren Osborne, influenced by Britain First and Tommy Robinson. We will continue to campaign against the far right, to try to keep them on the margins".
Sabby Dhalu – Joint Secretary of Unite Against Fascism said,
"If Stables hadn't been revealed by another far right activist concerning his intentions, another atrocity may have happened. It is clear from his online threats to kill and maim, blacks, lgbt and others, that Stables is a dangerous neo nazi.
There must be a thorough going attempt to root out such people. Much attention has been focused on Islamist terror. Much greater focus must be made on the far right, given the propensity of terror cases involving individuals and groups like the banned, National Action".