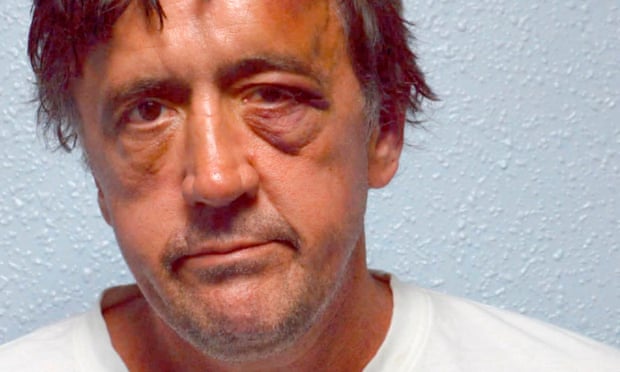 Darren Osborne, above, has been jailed for at least 43 years after being found guilty of murder and attempted murder over his vicious attack with a van in Finsbury Park, North London, last year. Osborne had also admitted in court that he wished to killed Jeremy Corbyn, Labour leader and Sadiq Khan, London's mayor.
Osborne had a political agenda and his vile acts should be seen in that context.
Justice Cheema-Grubb told Osborne the jury in his trial had seen though his "pathetic last-ditch attempt to deceive them". She said he was "rapidly radicalised over the internet by those determined to spread hatred of Muslims". "Your use of Twitter exposed you to racists and anti-Islamic ideology," she went on, "you allowed your mind to be poisoned by those who claimed to be leaders." Ms Cheema Grubb clearly had people like the fascist Britain First and ex EDL thug, Tommy Robinson in mind.
It was shown in court that Osborne had followed online both Robinson and Britain First, the latter of whose leaders are currently on trial for a variety of charges including religiously aggravated harassment.
Given Robinson's fascist views and violent islamophobia, it was galling then that BBC's Newsnight interviewed Robinson, about the trial. Unsurprisingly, Robinson lied and sneered throughout, denying all responsibility for the effects of his propaganda.
Encouragingly, some journalists have  made the connection between those such as Robinson and Britain First and, the likes of Osborne, who took to the worst extremes, the message behind far right propaganda. There should surely be some soul searching by companies who allow fascists such as those who influenced Osborne, to  propagate their hate via social media.
Islamophobia perpetrated via the internet has again been shown to have appalling consequences. Like others, UAF has long argued that fascists such as Britain First and Robinson should not be facilitated in their hate by enjoying online access.
The court had earlier heard a statement from Razina Akhtar, the daughter of Mr Ali, who said she had had "recurring nightmares" since her father was killed. "The incident was near to our house and I walk past it most days. It keeps me awake at night thinking about the attack."
She said her mother, Mr Ali's widow, was too scared to go outside by herself, in her fear of being attacked. "My father was the most sincere and warmest person I know. He was full of jokes and laughter, and full of love for his family and grandchildren. His life was taken in a cruel way by a narrow-minded, heartless being,"
Osborne's pathetic and insulting attempt to claim others (a 'Dave' and 'Terry') were involved, were as was pointed out in court, figments of his foul imagination.
Our sister organisation, Stand Up To Racism (SUTR) held a vigil in solidarity, at Finsbury Park Mosque, shortly after the awful attack. Jeremy Corbyn among others, attended.
http://www.standuptoracism.org.uk/hundreds-gather-finsbury-park-mosque-vigil-oppose-islamophobia/
It was said in court that Osborne became "brainwashed" after watching a drama about the Rochdale grooming sex scandal. However, he was clearly a far right supporter. He had denied deliberately running down,51-year-old Makram Ali. Mr Ali died of his injuries. Nine other people were also injured on 19 June.
Days before his attack, Osborne followed Tommy Robinson's tweets concerning an alleged rape in Sunderland, which read in part,"….police let the suspects go and why?
It is because the suspects are refugees from Syria and Iraq, it's a national outrage".
Robinson had also tweeted to Osborne over the Manchester, terror attack, in May, of 2017, in which twenty three people were killed.
The fascist, deputy leader of Britain First, Jayda Fransen, also was someone who Osborne followed online.
UAF has long documented and campaigned against the far right. Fascists such as Britain First and those such as Tommy Robinson, have an appalling history of seeking to inflame Islamophobia.
Osborne stands alongside those such as David Copeland, the BNP nailbomber who murdered three people, in London, in 1999. One was a young pregnant woman. Like Copeland, Osborne took up the propaganda of the far right, in the most deadly way.
More recently, of course, Jo Cox MP, was murdered by a white supremacist, in 2016. The man who killed Mrs Cox was another who had been influenced by various fascist groups.
Some in authority have also noted the increasing threat of far right terrorism. Alleged members of the proscribed group National Action are to be tried on terror related charges.
As Sabby Dhalu – UAF Joint Secretary said –
"Tommy Robinson and Britain First's vile influence, has been highlighted, in this case. The Islamophobia they encourage doesn't exist in a vaccum. Osborne's foul action killed an innocent man and left many traumatised. The far right needs a higher level of vigilance and their propaganda needs opposing by all who value our multicultural society. This murderer  is a sick symptom of racism today."
Weyman Bennett – UAF Joint Secretary, commented,
"This verdict, coming shortly after we remember the Holocaust, should be a wake up call. Donald Trump's re tweeting of fascist Britain First has encouraged a toxic climate, and people like Osborne and fascists who influenced him, are the poisonous result. The encouragement of islamophobia and anti Semitism is truly criminal.
Lifelong anti fascists like Jeremy Corbyn and Sadiq Khan being targeted, shows the result of such far right hate.
We must continue to oppose the far right".
 The move to terror which many in the far right are taking is partly due to the current weakness of fascism in the UK. We have chronicled on this site, the collapse of the BNP and EDL, due to constant campaigning by anti fascists.
Given the rise of the far right in Europe, there can be no complacency, though. Anti fascists in Austria, Germany, Greece and the U S, continue to resist, we will play our part in opposing fascists in the UK.