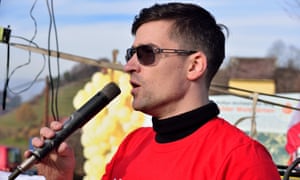 GI leader Martin Sellner, blocked from entering Britain again
Some of the anti fascists today
The far right group, Generation Identity have fallen flat in the UK. Their much vaunted (by themselves) 'European conference', which was supposed to be in London, was held in Sevenoaks, Kent and came to an abrupt, unplanned end. GI supporters were told to leave the Stag Community Arts Centre, by owners who had been alerted by anti fascists as to the nature of those they were hosting. Disgruntled far right individuals took to You Tube to whinge about supposed, anti fascist attacks on free speech.
Moreover, GI leaders, Martin Sellner and Abel Bodi, from Austria and Hungary respectively, were detained, on Friday at Stansted airport – the second time in a month that Sellner, the leader of Generation Identity, has been stopped from entering Britain by border officials.
Sellner was central to the far right, "Defend Europe" campaign last summer, which tried to stop boats attempting to rescue migrants in the Mediterranean. His mission ended in failure, ironically, after getting into distress off the coast of Libya, Sellner and others were saved by a refugee rescue boat.
Despite GI'S hype and internet promotions, they pulled perhaps less than 60 to their 'conference'. Overnight, some who had paid the nearly £50 pound attendance fee, complained to GI that they had not received confirmation of conference details. The live feed of GI's day periodically failed, and was followed by few, online. It was cleat that all was not going well for the little Hitlers.
Anti fascists were monitoring venues and tube stations across London. Through the help of trade unionists from the RMT union, various places thought likely to be used by GI, were under watch. News came through in the early afternoon that GI were in Sevenoaks, Kent.
Local anti fascists were joined by some from London, who nearing the venue heard the welcome news that GI's event had been shut down. Ex Britain First thugs providing security for GI  tried to throw their weight around in their displeasure, but were rebuffed.
GI will try to make amends in the future for this miserable day. However, that they had to skulk away in Kent, not London, had small numbers for an allegedly European conference, with few of their leaders there, poses problems for them. The secrecy of the day backfired  and they have been reduced to internet fallouts.
Today's climate of islamophobia, anti refugee policies and anti Semitism, in much of Europe feeds GI. However, this was a setback for them and a positive one for anti fascists.