As we wrote yesterday, UKIP supporters, including a Swindon council candidate, Martin Costello (below, with a hand to his mouth) were among those whose who attacked Bookmarks, a left wing bookshop.
This morning, UKIP suspended Costello and two others believed to have been involved in the incident.
In a statement, Ukip said party chairman Tony McIntyre, has suspended three members – Elizabeth Jones, Luke Nash-Jones and Martin Costello – pending an investigation. "It is understood that the three members were involved in an incident at the Bookmarks bookshop in London on Saturday," it said. Jones may have been present alongside Costello, she is still on the NEC of the far right party.
There is no doubt that UKIP have been compelled to do this, following the huge revulsion at all levels of the movement at such fascist behaviour by their supporters. Yesterday Bookmarks received dozens of well wishers through out the day bringing their solidarity and various gifts and donations. MP's, General Secretaries from trade unions, authors and many others have shown solidarity to the shop. Phones didn't stop ringing with donations given.
RMT members, led by assistant general Secretary, Steve Hedley, below, left, were among other trade union delegations, yesterday. RMT  and Unite members recently of course, were attacked by Tommy Robinson supporting thugs. All remarked that an injury to one really is an injury to all and pledged support to the shop and its staff.
The great film director, Ken Loach, sent a special gift and tweeted that 'everyone should buy a book this week from Bookmarks to show support'. Bloomsbury still has a number of bookshops locally, and staff from various such shops came to say staff were on their minds and how appalled they were about Saturday.
In a pathetic attempt to save his own skin, Luke Nash Jones of the far right Trump and UKIP supporting group Make Britain Great Again (MBGA), issued a video late last night.
Nash Jones blames anyone but himself for Saturday and tries to claim that those in his group who threatened and intimidated staff were 'third parties'. In Nash Jones world, these 'parties' are culpable, not him. Of course, as their own videos show, Nash Jones was at the heart of what was to be an 'ambush' and led the attack.
It remains to be seen what action the police may take following  Nash Jones calculated and planned hate. The backlash against his work on Saturday has been vast. Gerrard Batten, UKIP's leader, who has shared platforms with Nash Jones, has not yet commented on the incident. His silence says much. Batten of course supports the fascist thug Tommy Robinson…
Make Britain Great Again has suffered a serious blow to what still is a tiny, albeit foul, organisation. Some on the far right are  castigating Nash Jones for trying to escape the consequences, whilst putting others in the frame. The group suffered a split last week, when two members were alleged to have made death threats to others in MBGA.
We can but hope that action is taken against Nash Jones and his cronies. Many anti fascists are even more determined to take on the likes of 'Tommy Robinson' and his racist followers.
This Saturday, there is a  solidarity event at Bookmarks at 2pm, 1 Bloomsbury Street, WC1B 3QE more event details here Rush messages of support to Bookmarks info@bookmarksbookshop.co.uk and/or message on twitter @Bookmarks_books or to their facebook page here
Pictured above is one of the main protagonists of the far right assault on Bookmarks bookshop, which took place on Saturday afternoon, in central London. Luke Nash Jones, has been widely viewed on video, with others from the group, talking of an 'ambush' on the shop its staff and customers, below. Jones runs a right far right sect, 'Make Britain Great Again'.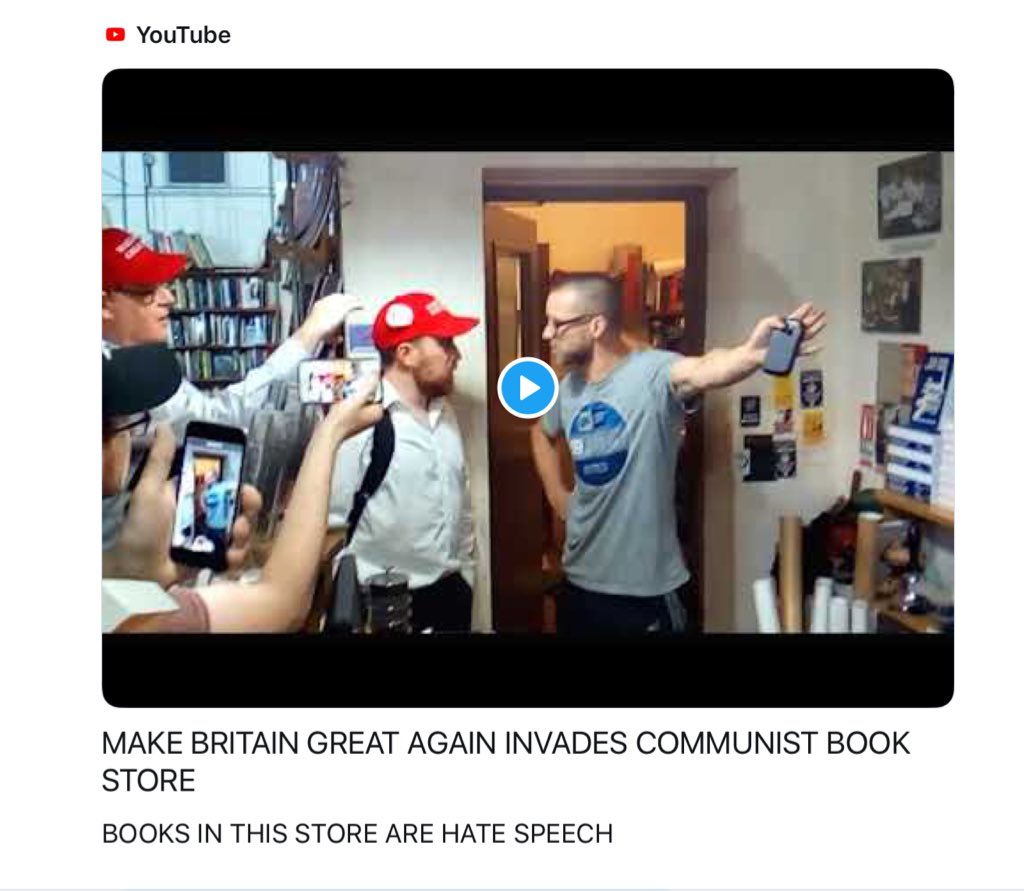 Nash Jones has a sordid history of activism on the far right. He uses the language of the US alt-right and is a huge admirer of racist Donald Trump. Before the Football Lads Alliance morphed  into the Democratic Football Lads Alliance (DFLA) Nash Jones was often in the company of disgraced  FLA founder, John Meighan, pictured above.
Emboldened by Trump's rise and the support for 'Tommy Robinson', the attack on Saturday by the far right shows that they are gaining in confidence in the wake of Robinson's release on bail.
Ex leader of the fascist English Defence League and former BNP member, Robinson has become a rallying point for the whole of the racist right, with money flooding in from the US Alt-right to back him.
 Nazi groups, Alt-right figures, the DFLA and UKIP believe they can build a racist movement in Britain just like their friends in the US and Europe have done.
The 'free Tommy' campaign was marked by rising levels of violence as anti-racists and trade unionists have been attacked by Robinson supporters.
Stand Up To Racism has launched an important statement opposing the Robinson and the growth of the far right signed by MP's, trade unionists, campaigners and faith leaders.
You can add your name
here
 please share it widely for others to sign.
Now in true Nazi style they have turned on a bookshop! The images of book burnings in Germany from the 1930's show where all this can lead. TUC General secretary Francis O'Grady said; "This is another sinister reminder of the growing confidence of the far right".
By leading the thugs who targeted Unite Against Fascism materials, and other works, Nash Jones has crossed a line into fascist violence. Fascists of course have a more recent history of attacking bookshops that stock radical literature. In the early 1990s, Combat 18, a fascist terror group, that still has a presence in parts of Eastern Europe firebombed the Morning Star newspaper and attacked staff in bookshops in London and Nottingham.
Earlier this March, Nash Jones spoke at an DLA demonstration in Birmingham and led the crowd in chants of "We Want Trump". He also called Labour shadow home secretary Diane Abbott a "racist," and labeled Stand Up To Racism, "anglophobes".
Nash Jones has spoken on platforms with UKIP supporters, including current leader, Gerrard Batten.  and attacked migrants that "won't speak our language and hate our culture". Batten and Nash Jones shared a platform in May on a rally that at Downing St, demanding the release of Tommy Robinson, who had been jailed in Leeds that week.
In keeping with his alt right lies, Nash Jones claims that "The Labour Party banned white men from their conference." He is also homophobic; arguing that  so called "effeminate men", are not 'real men'.
One figure who was with Nash Jones on Saturday is Dave Coppin, pictured here, far left with fascists from Kent, where he's based.
Coppin is known to anti fascists and a frequent hanger on with nazi groups such as the Infidels, the National Front and the islamophobic, DFLA. Another individual pictured shouting abuse at staff is Max Hammet-Milay, who is an active supporter of ex UKIP leadership candidate, Anne Marie Waters.
Locals who tried to assist staff on Saturday were threatened by some of the group, Nash Jones led. Bookmarks shop has been 'overwhelmed' with support from people in the area and well known artists and authors eg Billy Bragg, Mark Thomas, Jonathan Coe, Louise Raw and MP's like David Lammy and Rupa Haq. Today, Monday, has seen large numbers of people either buying books from Bookmarks in solidarity, bringing messages of support from trades unions or simply wishing staff well.