A cowardly collection of  far right supporters of fascist Tommy Robinson and Donald Trump attacked a TUC-backed socialist bookshop in central London on Saturday.
Roughly 12 of them marched into Bookmarks, the TUC union federation's appointed bookseller. They waved placards, bellowed far right slogans, and tried but failed to intimidate staff. They had been on a nearby protest in central London earlier in the day.
The far right sect Make Britain Great Again (MGBA), pictured below,  had been at the BBC, in nearby Oxford Circus. They were whinging about the supposedly left wing bias of the BBC. This small group has attached itself to the coat tails of the 'Free Tommy Robinson campaign', and are known to support UKIP. They are also linked to the far right so called, Democratic Football Lads Alliance, known for their anti Islam racism and violence. They have also tried to disrupt Stand Up To Racism events in London and Manchester.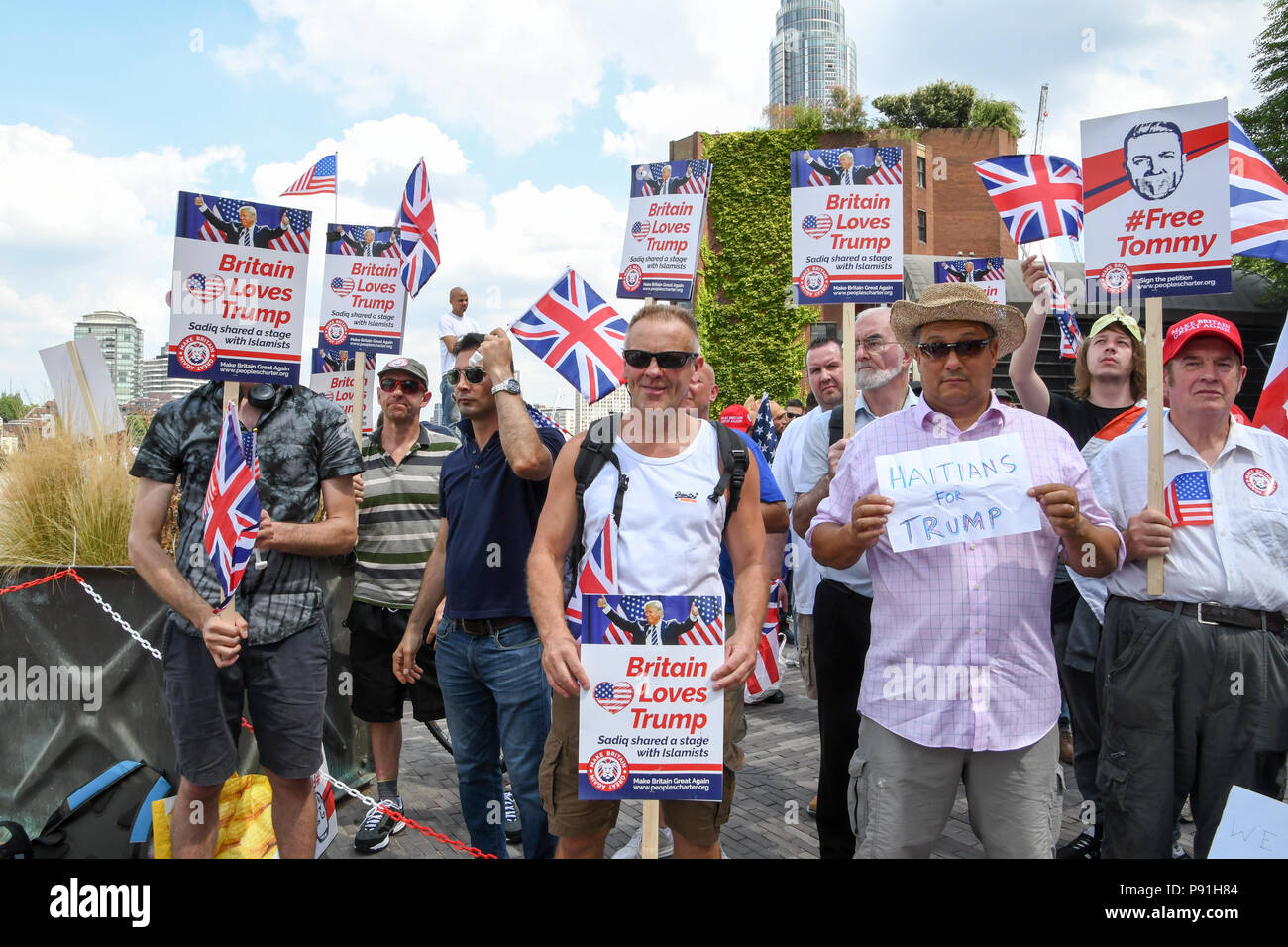 On Saturday, supporters of MGBA spouted racist bile about Muslims being paedophiles and anti Semitism. Noel, who works in Bookmarks, said, "I was leaving work a bit early at about half past six, suddenly I noticed a small group on the corner with alt right placards.
"They said something like, 'BBC—British Bolshevik Cult. I telephoned my co-worker and told him to close shop, but about a dozen of them had got in. They began trashing the shop. They knocked over some book stands and displays."
"The book they picked up when shouting about antisemitism was Abram Leon's On the Jewish Question." That's a book about Jewish history and antisemitism. Could you be any more inappropriate?" said Noel. "Abram Leon died in Auschwitz concentration camp."
The attack on Bookmarks show that many on the far right are taking confidence from last week's release on bail of fascist Tommy Robinson, http://uaf.org.uk/2018/08/after-fascist-tommy-robinson-is-released-from-prison-four-steps-to-take-on-the-far-right/
It follows an attack on trades unionists from the rail workers union, the RMT and the biggest union, Unite. A female muslim bus driver was also abused and threatened by supporters of Robinson. All the events happened on July 14 which saw several thousand rally for Robinson. They were countered however, by up to 3000 anti fascists, the biggest anti fascist mobilisation for some time, http://uaf.org.uk/2018/07/4872/
There are new layers of young people, some who are attracted by white nationalists such as Generation Identity and many more who admire Donald Trump and the US alt right. Such developments have been key in the recent thousands-strong "Free Tommy" rallies in London.
Noel said, "They were definitely alt right, one of them was wearing a Donald Trump mask.
"They were clearly fascists and were into ultra anti-communist stuff.  I think they had been somewhere else and they thought that they would do mini bash on a socialist bookshop."
The fascists sense an opportunity to rebuild a movement on the streets that's capable of carrying out much more serious attacks against Muslims and the left. Many will remember the early 1990s when newspapers like the Morning Star and other left wing bookshops in Nottingham and East London came under fascist attack.
The Nottingham bookshop, which still operates, saw around forty members of the Nazi Blood and Honour 'music' group attack just two members of staff, in 1994. One person, who was a disabled worker, was beaten unconscious. Several convictions followed this vicious assault. Many people have rightly drawn the parallel between Nazis who burned books in the 1930s in Hitler's Germany and the motivation behind this latest aggression.
It's been heartening  to see support come in for Bookmarks. Musicians such as Billy Bragg, activists such as Mark Thomas, authors like Jonathan Coe, Louise Raw, poets eg Michael Rosen and MPs Rupa Haq and David Lammy have expressed outrage and solidarity with shop staff.
Tommy Robinson is currently on holiday and  faces court in September. Clearly, his supporters are using his current freedom to step attacks. Anti fascists must be on guard and continue to build a broad, mass movement that can counter the far right.