Up to 100 anti fascists demonstrated outside the Oxford Union, yesterday after the Union insisted on allowing the notorious fascist, Marion Marchal Le Pen to speak. It was a members only event and Le Pen was handled with kid gloves by Union officials. Thus the 'normalisation' of fascist speakers at the Union continues it's degrading tradition. Only last year of course, Steve Bannon, former key adviser to Donald Trump was a keynote guest.
Anti fascists scored a victory last year also though, when the head of the far right German AfD, decided not to take up an invitation from the Union, uaf.org.uk/2018/11/victory-for-anti-fascists-in-oxford-no-platform-for-far-right-afd-at-oxford-union/
As Oxford Unite against Fascism and Oxford Stand Up To Racism said, 'The invitation to Le Pen is especially disgusting since it is scheduled during the run up to Holocaust Memorial Day on 27th January. The National Rally party in France is well-known for its extreme anti-Semitism. Founding member and beloved grandfather of Marion Maréchal, Jean-Marie Le Pen, has stated on many occasions that the Holocaust was just an insignificant detail of the Second World War.
Like her aunt Marine, who leads National Rally, Marion Maréchal is a vicious Islamophobe. She believes that Muslims can only be regarded as French if they follow a Christian culture. She once stated that the most Muslims in France support jihadists. She is believed to be politically close to her Nazi grandfather.'
The Union's hosting of Le Pen drew widespread criticism including more than 150 open letter signatories who said there should not be a platform for such people.  Oxford East MP Anneliese Dodds told organisers to 'grow up' and stop inviting 'racist after racist'. As Oxford Stand Up To Racism's Kate Douglas said the invite takes place in  'a climate of rising racist attacks… when the spectre of fascism is stalking Europe'.
"By repeatedly giving platforms to far-right and fascist sympathisers, the Union is making it easier for fascists to present themselves as a normal part of mainstream politics. This poses a threat to everyone who believes in freedom and democracy."
Those who run the Oxford Union are smugly happy to see such as Le Pen follow in the footsteps of the fascist Blackshirt leader, Oswald Mosley (who spoke in the Union in the early 1960s) and convicted Holocaust denier David Irving. The latter, like nazi British National Party Chairman, Nick Griffin, was another whose presence at the Union, sparked condemnation and protests from many quarters, below.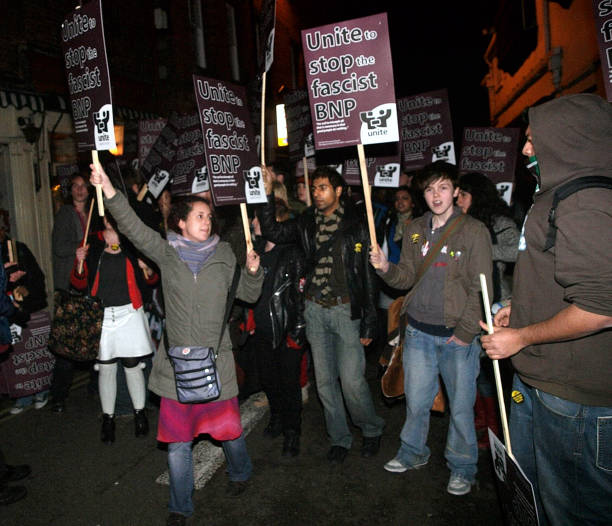 More recently, the thug who ran the English Defence League, 'Tommy Robinson' has spoken at the Union.  In a climate where MPs and individuals like Owen Jones, alongside trades unionists and anti fascists, are regularly threatened and worse, by supporters of the likes of Robinson and Le Pen, it is criminally irresponsible of the wealthy elite who run the Union to invite fascists.
FAR RIGHT TERRORISM
Le Pen spoke the day before Metropolitan police assistant commissioner Neil Basu, head of counter-terrorism policing, said he is  concerned that fascist rhetoric leads to a rise in hate crime, www.theguardian.com/uk-news/2019/jan/23/no-deal-brexit-incredibly-damaging-security-says-uk-counter-terror-head-neil-basu
"It is deeply wrong in principle to invite fascists and far right figures, of course. No platform for fascists is still worth fighting for.  The MP Jo Cox was murdered by a fascist, who had heard the kind of bile Robinson spews out, not in the plush surroundings of Oxford Union, but in back rooms of pubs, where fascist organisers give false names for their meeting bookings. They do so to camouflage their anti semitism and hate and in an effort to evade anti fascists.
Disturbingly, those who run the Oxford Union seem unabashed in their efforts to invite far right representatives. The Union's spurious claims of free speech, does not extend to those who are on the receiving end of fascist and far right inspired violence. How many muslim speakers from mosques threatened by the far right have been given the right to speak at the Union, for instance?
The words of Le Pen and her ilk, thus, have devastating consequences for her far right adherents who act on them.  Tommy Robinson's speech at the Union five years ago bolstered the far right both in Oxford and the wider world. Fascist poison as we saw tragically with Jo Cox and its influence on the Finsbury Park, mosque killer, often leads to terrible consequences. That of course is the intent, something lost or worse on those who play with fire with invitations to such as Robinson and Le Pen (Robinson was referred to by Neil Basu, in the latter's report).
Anti fascists in Oxford as elsewhere, will continue to oppose prominent far right figure's right to speak at venues such as Oxford Union. No air of respectability should surround or shroud the toxic views of those like 'Tommy Robinson'. Where fascists gain access to a wide audience through the crass opportunism of those who run the Oxford Union, for example, the results are increased confidence of the far right and racist attacks and murders.
Far right views and organisations stain our world, resistance to them is both necessary and urgent.