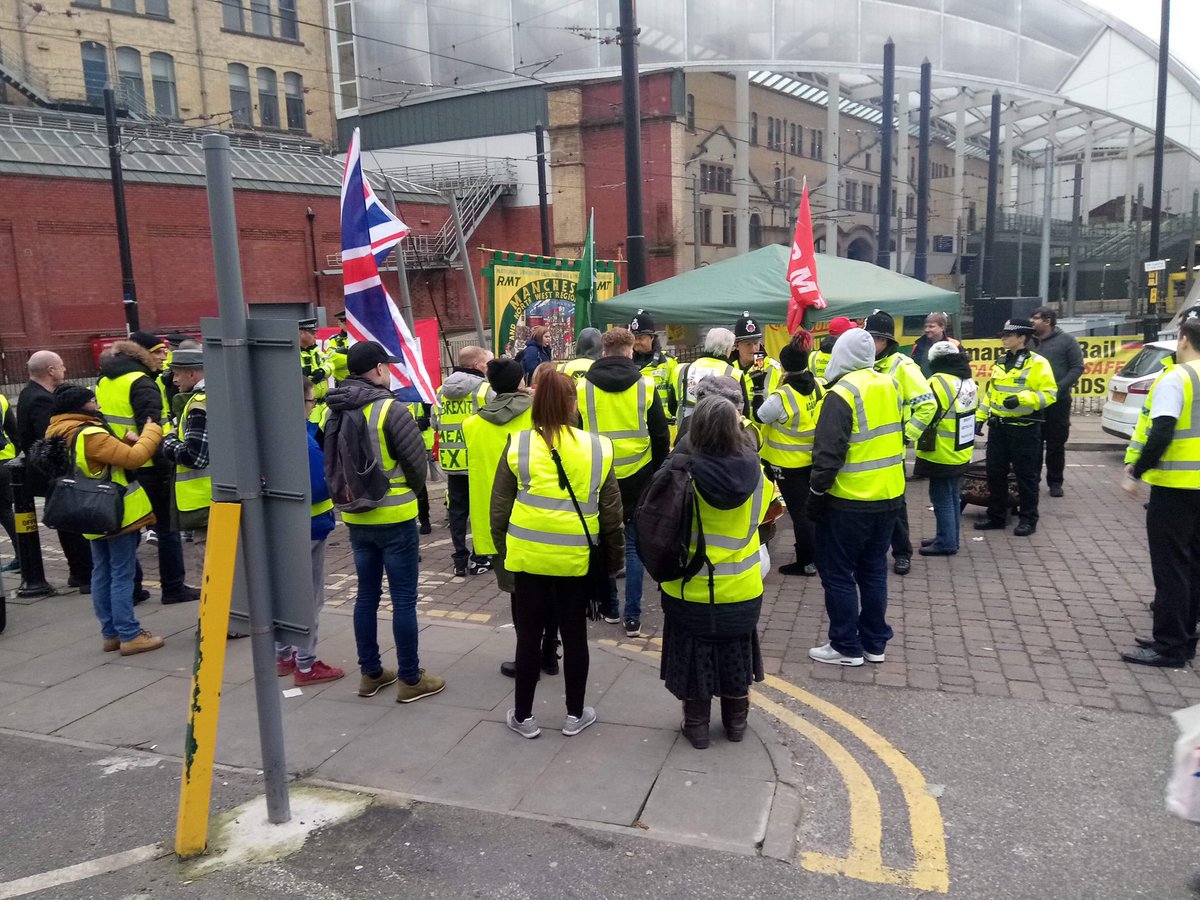 Trades unionists from the North West and beyond are organising for a large turnout in solidarity with  rail workers after far-right activists, who support Tommy Robinson and the thugs of the Democratic Football Lads Alliance (DFLA), attacked striking train guards in Manchester.
RMT assistant general secretary Steve Hedley said it is "urgent" that members of the public stand by strikers after a group of thugs dressed like French "yellow jacket" protesters marched on a picket line at Victoria station, central Manchester, on Saturday. Manchester TUC are urging activists to be at the picket line this Saturday, to stand with RMT members.
The RMT strike, in defence of safety-critical train guard jobs, was on the same day that far-right organisers tried to launch a series of "yellow jacket" protests across the country, with a similar protest being held in London.  An RMT member of south-east Asian heritage was abused by the "yellow jackets," who called him a "sex offender" and a "paedophile," as well as shouting at him that "your lot get away with it" — referring perhaps to recent grooming scandals in Rochdale and Rotherham.
RMT – always anti fascist
Steve Hedley, who with other trades unionists, was attacked  last July by fascist activists in London, said that the RMT and other anti fascists warned that far-right elements were looking  to attack trade unions.
"We have to put our differences aside and defend all striking workers on the next picket lines this Saturday", he said.  Unite Against Fascism and Stand Up To Racism have been proud to work with RMT members over a series of anti fascist mobilisations. We send full solidarity to the union and are encouraging all members to attend the picket this Saturday, www.facebook.com/events/368267737239345/
Earlier on Saturday, the 40 or so BNP and EDL thugs tried to march. They were kettled for some time outside Greggs shop, which led to much merriment among anti fascists, https://thetab.com/uk/manchester/2019/01/05/40-pro-brexit-protesters-contained-outside-greggs-in-manchester-after-short-march-from-st-peters-square-40246
Nazi salutes and EDL insignia made it clear the impostors of the far right have nothing in common with the majority of yellow vests protesters, in France. Fascists that have turned up to protests in Paris have sometimes been run off demonstrations by anti racists.
In London, around 70 flotsam and jetsam of the far right, led by notorious thug, James Goddard, at moments blocked part of Westminster Bridge and Parliament Street. Showing no respect for the Cenotaph war memorial, they let off smoke bombs and flares. This resulted in some arrests and passing members of the public let the far right know their feelings about the latter's lack of respect for the surroundings. However, a planned far right yellow vests protest in Leicester was cancelled, due to poor organisation, showing this is not a well oiled machine.
A similar stunt by Goddard saw him earn widespread contempt when he subjected Tory MP Anna Soubry, to a bizarre rant over Brexit, at Westminster, last year. The nature of the attempt to gain ground by those on the fringes of the far right is clear. One of those involved is Scott Timothy. He has been linked to the tiny, openly nazi National Front. His 'Liberty Defenders' group is backed by known fascists like Jack Sen and Nick Griffin, ex BNP leader, but still active alongside former BNP funder, Jim Dowson.
This is the latest in a series of attacks on all who stand up to racists and fascists. Alongside the attack on RMT and Unite the Union members, last July, Bookmarks bookshop was subject to far right intimidation last August and DFLA members have on several occasions tried to attack anti fascists. The incidents reflect the confidence some in the far right have. However, some in and around UKIP, for example, are uneasy that such violence is being associated with the party and Batten's anti muslim campaigns. What binds often uneasy alliances together is the campaign around Stephen Yaxley-Lennon, aka, Tommy Robinson. This has had successes, eg the 12 000 strong summer demonstration, last summer, but there are also tensions within and between key individuals.
However, as UAF and others said following the smaller than the far right expected December 9th demo last year, fallout from that day has hit the DFLA hard, for instance. As many complained on the private DFLA Facebook wall, 'we have gone from 12, 000 in October 2017, to 1000 of us' in just one year, and the left are increasing turnout on marches, whats happened!?' Some in the DFLA are talking of targeting the People's Assembly demo this Saturday, a sign of their hatred but it reflects the DFLA's inner crisis and arguments over the way forward.
Goddard and Timothy are minor fish, and the likes of current UKIP leader Batten, know that their fortunes lies to a considerable extent on the Brexit crisis and whether he and his right hand man, Robinson, can capitalise on this. Robinson is still to appear again at the Old Bailey, sometime soon, on charges of contempt of court. He may yet face another spell behind bars. Much may depend on the outcome of the trial for the far right.
Thus, the RMT and Manchester TUC are right to respond quickly to fascists. There is also speculation that disgruntled elements in the DFLA plan a so called patrol in Dover in late January or early February.  Local anti fascists in the Kent Anti Racist Network are, like others monitoring the situation. Yesterday, Sunday, saw KARN hold a successful rally in support of refugees in Ramsgate, www.independent.co.uk/news/uk/home-news/migrant-crossings-kent-antiracism-campaigners-vigil-uk-a8714491.html
Anti fascists face many challenges in 2019. Strong organisation and roots in the trades unions and community campaigns can enable us to hamper the far right's growth. The December 9th demonstration showed what unity in action can achieve can achieve; on such foundations lay the basis for defeating fascists.