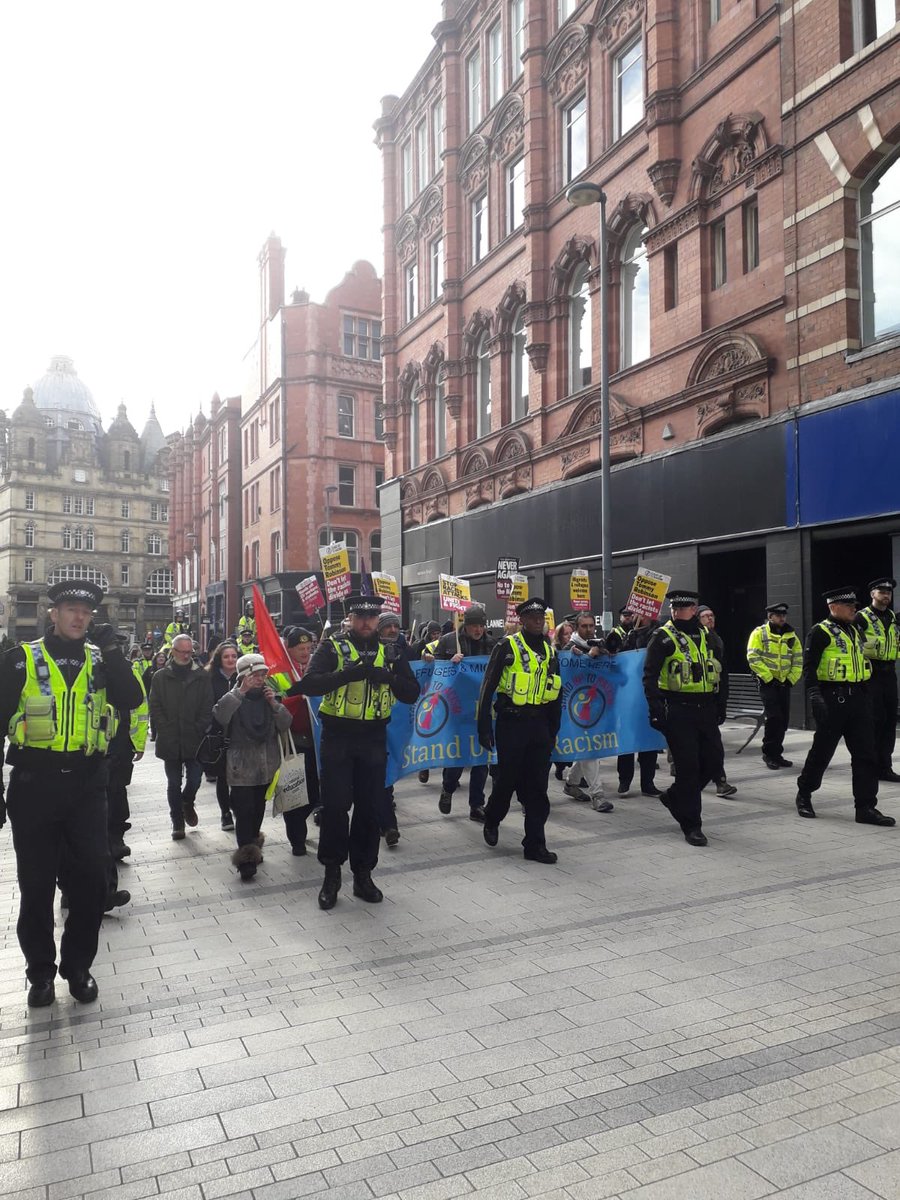 There have been a series of far right provocations and activities across the country this weekend. In Leeds and Newcastle attempts by far right individuals and groups failed to dampen anti fascists' spirits. In Yorkshire, Lee Scheres, who has a Facebook wall designed to harass and intimidate various anti racists, utterly failed in his attempt to 'shut down the city centre'.
Few if any people answered his call. He was served a Section 35 by police and had to leave the city centre. Some shut down; he resembled the worm that he is. Scheres looks to emulate the notorious nazi site, Redwatch which was an online hit list, run by other longstanding Leeds fascists such as Kevin Watmough. Watmough still creeps out from his sewer on some far right actions.
Redwatch has been out of use for several years, and though Scheres Facebook site has been widely reported for threats made by fascists on individuals and groups, Facebook has not taken it down.
Anti fascists mocked Scheres before he had to depart and held a short march through Leeds. As one told Unite Against Fascism, 'This horrible man who tries to get people, some well known public figures among them hurt, via his Facebook hate was humilated. There was broad unity among anti fascists – we need to keep such going in the run up to the March 16th anti racism demonstration, and beyond'.
In Newcastle, what remains of the nazi National Front, along with fake yellow vests, held an event which was not a breakthrough, in any way. Just 40 fascists, described by a veteran anti fascist, as 'the usual suspects' held a pitiable attempt to rally support for their toxic causes. It was a 57 varieties motley fascist crew. In stark contrast, anti fascists were joined by 'ravers against racism' who more than held their own against the fascists.
Anti racists then went on to join a good crowd who rallied in solidarity with the Bahr Academy. The venue is on what was the Byker Grove site in the city's West End and was attacked by far right thugs last week. "Moslem terrorists" and a swastika was sprayed on the wall and rubbish thrown around.
A vigil at the Academy was held earlier this week and dozens of locals were there again today to say that no section of the community, muslims in this case, will be left on their own, when fascists target people.
Parts of London saw outrageous scenes from far right elements who make up the 'Yellow vests' who have in recent weeks attacked anti austerity protesters, RMT union pickets and Stand Up To Racism members. At one stage around 150 walked down Whitehall in an attempt to reach Buckingham Palace.
An arrest was made and as shown online, some far right thugs at Charing Cross police station, let off a smoke bomb. As anti fascists have said, the kid gloves approach to the fascists by some police officers, inside a police station, is in stark contrast to that given to anti fascists and BME people.
Known fascists like David Coppin, above, who is linked to the banned nazi group National Action, was among others who then harassed women particularly,
in an attempt to block traffic in Fleet St.
This is the latest in a series of attempts by far right, atomised figures and ex EDL and BNP members to rally round the(ir) cause of Brexit in an effort to build their forces. Most Saturdays in London now see the same faces at Trafalgar Sq rally under the banner of far right obsessions, from hatred of the EU to focusing on George Soros (a particular figure of hate for the far right)
The fascist 'yellow vests' are looking to build both quantitatively and qualitatively. Those in London and elsewhere were of all ages and resemble their counterparts internationally, in their violence and amalgamation of extreme right ideology.
For the second Saturday running, fascists from what is left of Britain First and the EDL looked to curtail Stand Up To Racism activities in Manchester. As Mike told UAF,  "Fascists today tried to harass and intimidate the Stand Up To Racism stall here – we stood our ground and gave out hundreds of leaflets. One, John Lawrence,  was flashing a Britain First election rosette.  One fascist lost the plot several times and was restrained by police. We will not be stopped by these people and are building a big SUTR anti-racist rally next week".

THe far right is banking on the figure of ex EDL leader 'Tommy Robinson' to see their fortunes rise, amid the Brexit crisis. He and current UKIP leader, Gerard Batten will not be pleased that former UKIP leader, Nigel Farage has formed a new, pro Brexit party. Such a move only deepens pressure on Batten to get results. Rumours abound re Robinson. His forthcoming trial for contempt of court at the Old Bailey still has no date. Robinson has been seen at a particular court case concerning child  sexual abuse, in the north of England.
'Robinson' will be looking to gain political advantage depending on this case's outcome. His concern for victims of such horror is as ever, absent. His only motive is to inflame islamophobia, in the most cynical way; even some in UKIP recognise this.
Anti fascists are working hard to see the March 16th demonstration is a success. Efforts by UKIP to marry an electoral strategy with a street movement led by the Democratic Football Lads Alliance, can be undercut by March 16 and the successful anti fascists mobilisations, late last year.