It has been a difficult week for sections of the far right in the UK. James Goddard, notorious for harassing MP's and journalists outside Parliament, was arrested after outbursts of  threatening behaviour against anti racists in Manchester, last weekend, uaf.org.uk/2019/02/newsanalysis-oppose-fascist-tommy-robinson-manchester-february-23rdfar-right-round-up/
Saturday afternoon saw scenes of 'yellow vests' fascists in violent confrontation with police in the Haymarket in central London. At least one Britain First member was involved. More arrests may well follow. Some of the same individuals were not arrested after recent similar incidents, eg setting off a smoke bomb inside Charing Cross police station. Today, some felt the long arm of the law.
Goddard has been charged with assault and a public order offence. This follows his arrest last December in central London, before a small, 'yellow vest' provocative stunt. For several weeks, the fake 'yellow vests', comprised of ex EDL and BNP thugs in some cases, have plagued Manchester city centre and targeted anti fascists. Last week, a broad section of anti racists in the city ensured that Goddard and his motley crew were humbled in their attempt to again instigate anti muslim hate.
This weekend, the far right again targeted anti racists in Manchester, who continue to stand up to such provocations. There were also small pockets of fascists who adopt the yellow vest, in Durham, see below. Over 100 anti fascists gathered in the North East, one saying, the 'far right looked a little embarrassed. This bodes well for bringing people to the March 16th, UN anti racism, day march', details here, www.facebook.com/events/2013107605418593/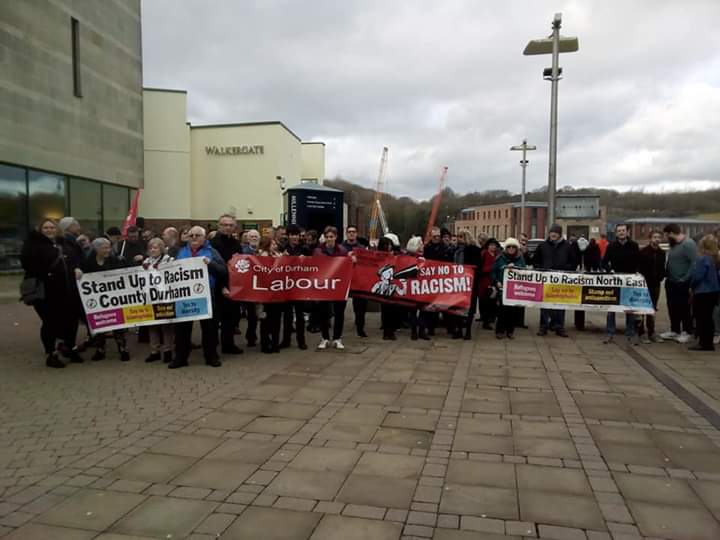 Oppose Tommy Robinson in Salford!
Threats towards journalists is of course, part of a long tradition, from Mussolini's time onwards, of fascists wanting to snuff out all who expose, highlight and ridicule the likes of Goddard and Tommy Robinson.
Anti fascists will always support journalists who from the founders of Searchlight magazine in the 1960s to today's vloggers, carry out important research and are invaluable to anti fascists. The photographer who suffered appalling injuries at Dover in January, 2016, was one of the more recent cases of organised terror by a fascist thug.
On the same day that Goddard was at a police station, 'Tommy Robinson' nee Stephen Lennon, was shown yet again online, as the racist that he is. Robinson

 boasted about scoring drugs and proclaimed himself "king of the whole Islam race".
He admitted to possessing cocaine with intent to supply, claimed: "No matter where I've gone in the world I score … I've gone to f***ing Qatar, to Doha, and scored gear on the sesh while they're all praying. Everywhere mate, every city I've gone to."
A video showed Robinson walking in Bologna, Italy and  describing a taxi driver as a "little p**i who drives a car".
Weyman Bennett – joint secretary of Unite against Fascism said, 'Tommy Robinson has to catch up politically to the place that he was in around the 2018, the 'Free Tommy Robinson' demonstrations. Like Donald Trump he criticises the free press because he's afraid of examination. His islamophobia continues to stain society. Anti fascists will  to make sure his poison doesn't become concurrent in a multi racial society".
Anti fascists are gaining good ground in their campaign against Robinson's stunt at the media city in Salford, on February 23rd. Seven MP's, union bodies and campaigners from across the North West have signed a statement pledging backing for the Stand Up To Racism/UAF initiative opposing Robinson and his thugs, https://www.facebook.com/events/384440585674753/
Salford Unison have released this excellent statement, salfordcityunison.org.uk/2019/02/15/tommy-robinson-youre-not-welcome-in-salford-saturday-23rd-february-11am-bbc-television-studios-salford-quays/
The ex BNP member and EDL founder is to be the subject of a forthcoming Panorama programme, which may shed new light on him. Yesterday, apparently following a post by Robinson, a rape victim hotline 'received a barrage of racist abuse following a Facebook post'.  www.huffingtonpost.co.uk/entry/rape-crisis-charity-bombarded-with-racist-abuse-following-right-wing-facebook-post_uk_5c67f899e4b033a799430498
All this week Robinson has unleashed  a series of videos claiming to expose the BBC and calling for the licence fee to be scrapped. This pathetic attempt to 'be ahead of the story' will count for little in the long term. It is reminiscent of Donald Trump's diatribes about 'fake news'.
Once again, UKIP leader, Batten has said nothing to condemn Robinson's behaviour. It appears that Batten will do anything to keep Robinson on board as an adviser. Batten will be concerned about the launch of the new Brexit Party, which is backed by ex UKIP leader, Nigel Farage.
The party hasn't started well, with very dubious comments made by founder Catherine Blaiklock on race and religion. Batten has said the party is for "Mr Farage and his cronies" to return to "the limelight on the gravy train". Playing to his far right base, Batten claims it is the "Establishment safety valve to dupe voters. 'Tories in Exile in Brussels' about sums up its purpose".
Batten though can't easily dismiss the 45,000 registrations on the new organisation's website, or its inflow of big funds. That is more than enough people to rally against any perceived delay on Brexit, which is the raison d'etre of the Brexit Party.
Robinson's demonstration in  Salford is an attempt to keep himself as the lynch pin of the British far right. In this of course, he has the backing of figures like the former rump, chief of staff, Steve Bannon.
As UAF has noted, one of Robinson's fatal flaws lies within, eg his erratic behaviour and failures of leadership, both with the EDL and the short lived British Freedom Party and PEGIDA UK.. His core support, alongside the likes of the so called Democratic Football Lads Alliance, increasingly obsessed with conspiracies about alt right targets such as George Soros, are blindly loyal to Robinson. This reflects a hardening up in his follower's far right worldview. To Robinson supporters' , there is no middle ground in their 'war on Islam.
Salford next week will see a demonstration of what's best about the area, black, white, Jew and Gentile, muslim and those of no faith, and a force of dark reaction, led by Robinson. The UN anti racism day march on March 16th, assumes great importance in the fight against the far right, details again here, https://www.facebook.com/events/2013107605418593/