Over 10,000 people joined two rallies against the "Brexit betrayal" outside Parliament on Friday. One was broadly right wing and reactionary, led by ex UKIP leader, Nigel Farage. The other was held by the far right UKIP/Tommy Robinson.

The larger Leave Means Leave rally in Parliament Square was addressed by  former Tory ministers, right wing Labour MPs,  Farage and others.
In Whitehall, fascist Tommy Robinson and the racist leader of UKIP, Gerard Batten,  had a "Make Brexit Happen" rally. Around 3,000 racists flocked to hear Robinson whose bigotry was as vile as ever.

Around 150 joined a counter protest organised by Stand Up To Racism and Unite Against Fascism.
Riccardo La Torre, on the counter-demonstration from the firefighters, FBU union, said, "Whether you are Leave or Remain the far right are not the answer."
 
Sabby Dhalu – co convenor of Stand Up To Racism (SUTR )said "As evidence emerged this week that Tommy Robinson's associates Generation Identity were funded by the Christchurch attacker, it could not be more clear the global far right is increasingly working together to spread hatred & violence.
Whatever our views on Brexit, it is vital that all who oppose the far-right make clear that they do not speak for us."
Weyman Bennett, UAF joint Secretary, said:
"UKIP and Robinson are out to promote the politics of racism and divide and rule. Robinson is working hand in glove with UKIP's leader Gerard Batten.
Their protest was not a genuine demonstration about Brexit, it's a platform to spread their extreme far right agenda.
Robinson and UKIP are promoting a vile Islamophobic, racist agenda, along with their violent friends in the Democratic Football Lads Alliance (DFLA). They want to create a far right street movement and build support for UKIP off the backs of  Theresa May's, Brexit crisis. "
Other speakers included London Assembly Member Unmesh Desai, author Louise Raw, Virgil Bitu of the Gyspy Council and RMT Senior assistant General Secretary Steve Hedley, who said:
"Every time the far-right have come to power they have targeted minorities as well as the organised working class, the trade union movement.
"They have attacked us, banned us, imprisoned us and killed our leaders. That is why we are here. To stand in solidarity with everybody who is an oppressed minority, and out of self-interest because working people can not let bastards like that pretend to represent us and come to power on our backs."
Sending solidarity to the demonstration, PCS general secretary Mark Serwotka said:
"Greetings from the PCS and solidarity to all those opposed to Tommy Robinson and his ilk.
We need to send a clear message- whether you voted leave or remain, we must fight attempts to blame migrants for our economic woes and start blaming the real culprits – the government and big business.
People from other countries should be welcome here and we must be resolute… to rid our country of racists and fascists forever."
pic Guy Smallman
Around 3,000 racists went to hear Robinson rant about how he has 'stood against the establishment'.
The crowd drifted off and more than halved in size when Batten spoke  after Robinson. Batten below is pictured with Frank Portinari, still thought to be London Ulster Defence Association commander and a convicted gun runner. This indicates how far right UKIP has travelled in its cosying up to the far right. Portinari is a DFLA supporter and friends with various fascists.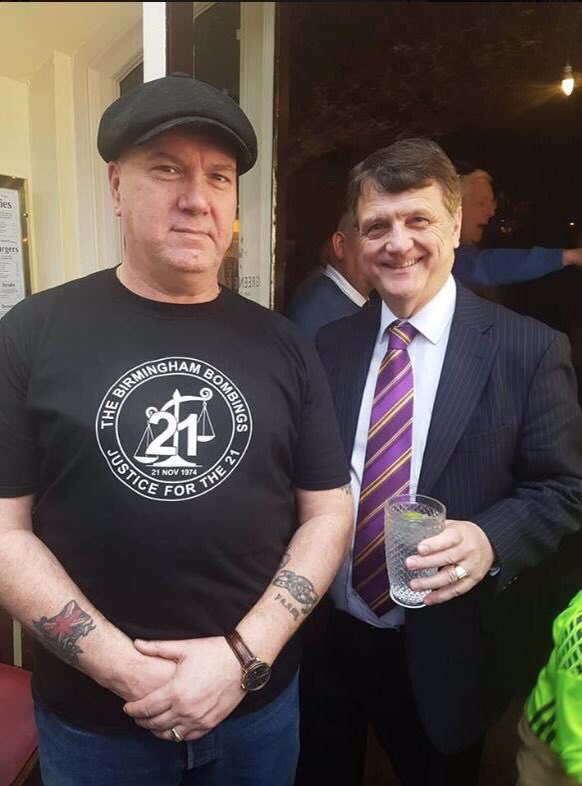 Batten had earlier been openly criticised by police after making inflammatory remarks about the possible use of water cannon, in the case of unrest erupting on Friday. Rarely do such things happen to party leader's.
The lukewarm response to Batten will worry the increasingly beseiged UKIP leader. Only this week, another Welsh parliamentary Assembly member quit, stating the party had become far right, in its associations with 'Tommy Robinson'. Michelle Brown echoed Nigel Farage's comment that UKIP  would with Tommy Robinson, " become the BNP".

There was a Loyalist marching band yesterday, The Livingston True Blue Defenders. Sectarian songs were played and lapped up by open fascists.
BREXIT
Robinson barely mentioned Brexit and played to far right themes around globalism. He used the rally as another attempt to showcase "Panodrama", his 'expose' about the BBC.

Robinson spent much of his speech to defend a school student who had attacked a Syrian refugee child in Huddersfield last year.
"There was no evidence that it was anything racist," he said. "He was a child, an English child—this would never happen to a Muslim child," he said. Many then broke into chants of his pseudoynm (Stephen Yaxley Lennon chanting, just doesn't sound right)
Some who had been on the Farage march walked away in disgust at the Robinson/UKIP event, saying such naked racism wasn't why they voted Leave. Such a wedge between hardcore supporters of Robinson and those around UKIP will be worked on by anti racists.

Divisons between Robinson supporters saw fascist misogynist Vinnie Sullivan nee Burke, involved in a fight with Robinson loyalist and failed kidnapper, 'Danny Tomo', aka Daniel Thomas. Burke who has a sordid history of targeting anti fascists was arrested and released by police on Saturday morning.

Flags representing the far-right Generation Identity were also seen at the bottom of Whitehall. This week evidence emerged that the group, representatives of which have met with Robinson, had been funded by the Christchurch terrorist.

Attempts were made by far-right Robinson supporters to attack anti racists, with police intervening on horseback. These included a number of thugs from the so called Democratic Football Lads Alliance (DFLA). They had earlier made threatening overtures at the Guardian newspaper and handed a 'letter', below. They  promised 'to return' should the Guardian not print their material. One veteran anti fascist said it reminded him of Mussolini's squadristi.
On the day, football hooligan firms included the fascist Chelsea Headhunters, some fromWest Ham's ICF, Spurs, Birmingham City, Leicester, Millwall and other clubs. At their meeting point in Covent Garden, some were unashamed in saying they were out to attack anti racists.
The rally showed that Robinson is still deciding whether to mobilise around Brexit or on a more extreme platform. He has suffered setbacks on both fronts in the last year eg after years of campaigning by anti fascists, Facebook and others have seriously undercut his online money making presence.

Unlike the UKIP/Robinson rally, Fascists and alt right supporters were a minority on the Leave Means Leave rally. Farage  said, "We will get our country back and we will get our pride and respect back".
 He was followed by Trades Unionists Against the EU spokesperson and FBU firefighters' union official Paul Embery, who argues right wing myths about migrants undercutting wages and terms and conditions. Others in the union strongly disagree with Embery.

Friday showed the threat from different far right and racist forces looking to gain from the Brexit stalemate and a possible second referendum. Unity in action from anti fascists, whatever their position on Brexit, is critical to stop the far right.