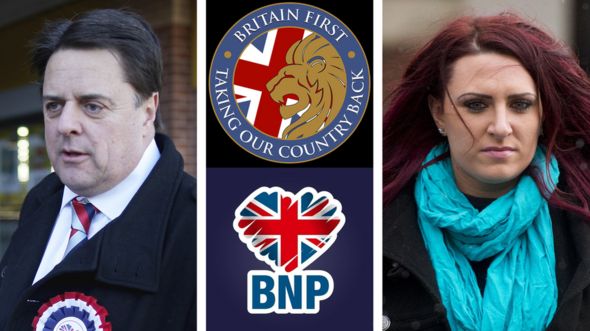 Facebook has imposed a ban on a dozen far-right individuals and organisations that it says "spread hate".
The ban includes the nazi rump of the British National Party and Nick Griffin, the English Defence League and the last followers of the once large, National Front.
The list also includes Britain First, which was already banned, but this latest action will cut support for it on any of the US firm's services.
Facebook it had taken the action because those involved had proclaimed a "violent or hateful mission".
"Individuals and organisations who spread hate, or attack or call for the exclusion of others on the basis of who they are, have no place on Facebook," the social network added in a statement.
The ban includes:
Britain First, its leader Paul Golding and former deputy leader Jayda Fransen
English Defence League and its founding member Paul Ray aka LionHeart
Knights Templar International and its promoter, ex BNP boss,  Jim Dowson
National Front and 'leader' Tony Martin
Jack Renshaw, a neo-Nazi who plotted to murder a Labour MP
A spokesman for Facebook clarified what would now be done to the pages the groups and individuals had run on its site. All those named would be prevented from having a presence on any Facebook service.
In addition, praise and support for the groups or named individuals would no longer be allowed.
More Action Needed
Weyman Bennett, joint secretary of UAF said, "It's welcome that Facebook is finally acting again on it's pledge to remove fascist and nazi groups from its platform. Curtailing their aims of  using poisonous targeting of muslims, minorities, Jews, the left, LGBT, helps in the fight against the far right".
Weyman went on,
"There however, is much still that Facebook can do ie rid it's sites of many other far right groups such as UKIP and the so called Democratic Football Lads Alliance. Both regularly carry islamophobic messages and the most vile sort of bigotry. Only this week, UKIP leader Gerard Batten endorsed a You Tube blogger, Carl Benjamin who said to Labour MP Jess Phillips, " "I wouldn't even rape you…. feminism is cancer. That Batten said this was satire and UKIP's endorsement of the likes of 'Tommy Robinson' , should mean their extreme right views are not promoted on Facebook and elsewhere."
The EDL recently had a disastrous demonstration in Wellington, last weekend. Just 11 thugs turned out for their national march! They were easily outnumbered by local anti fascists, https://www.shropshirestar.com/news/local-hubs/telford/wellington/2019/04/13/edl-to-march-through-wellington-today/
This may yet be the final nail in the EDL's coffin. Alan Spence, ex minder to Nick Griffin was not present in Telford, probably aware that under his control the group has become a drunken caricature. Far right thugs prefer the DFLA to the EDL, as the latter is an embarrassment among the extreme right.
A similar fate may await Tony Martin, the uninspiring nazi who may yet be the last person to turn the light out on the National Front. Martin has made a name for himself only for being attacked by other fascists and taking the NF on a road to nowhere. The NF, in recent times is like the EDL, a pale shadow of its former self and shunned by the majority on the far right.
The EDL, the NF and others, removed from Facebook will find it hard to operate or attract people now. Their online presence will no doubt come back in other forms, but this will sap the few remaining members confidence and ability to organise.
Anti fascists as ever, know the key is to build up our resources and numbers to see the kind of movement that can set back the far right, on the streets and in forthcoming elections.