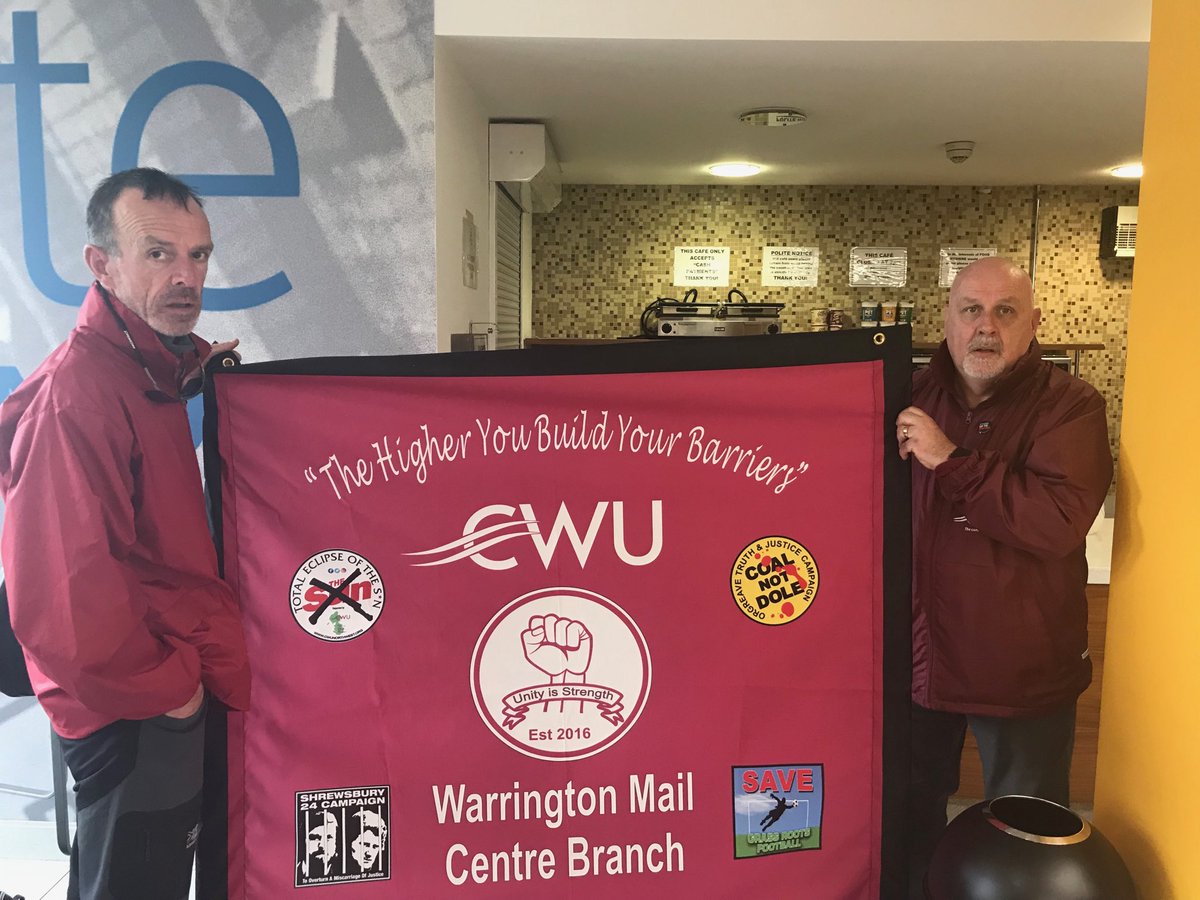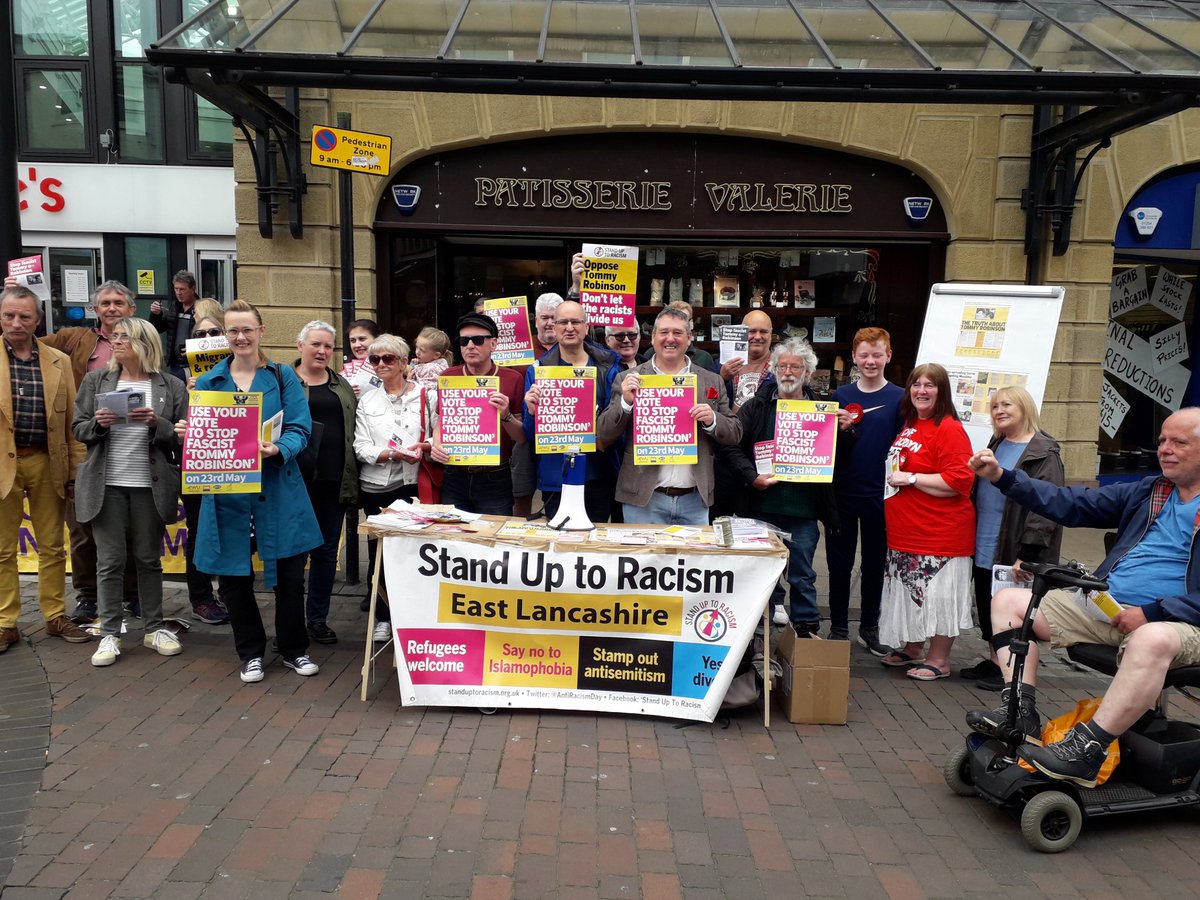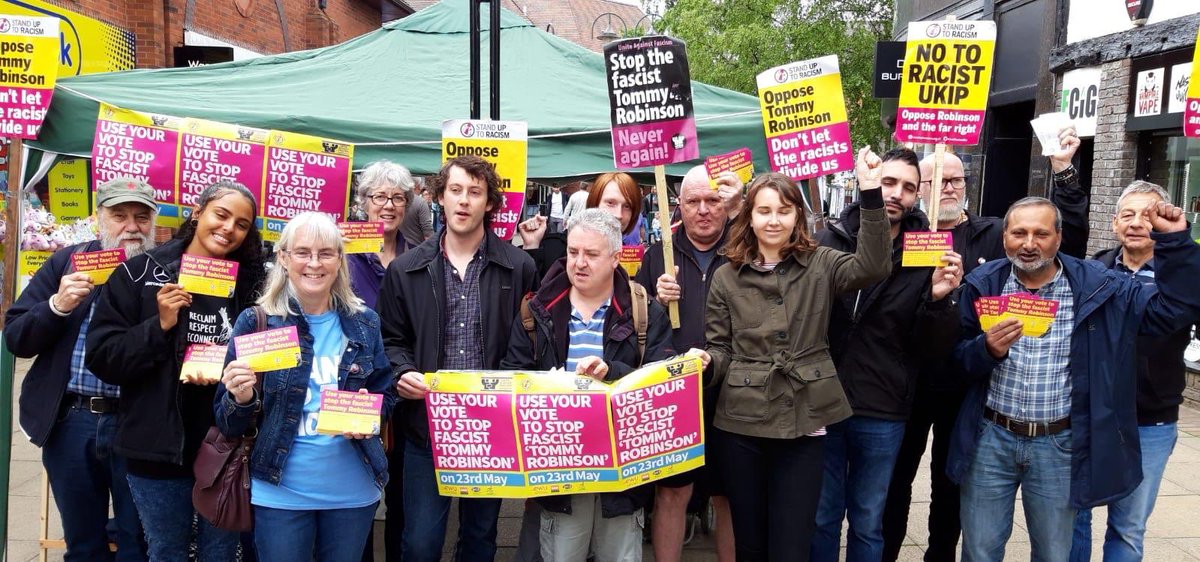 Anti fascists in the North West of England had an excellent day on Saturday, campaigning against the ex English Defence Leader, 'Tommy Robinson'.
Robinson, aka Stephen Yaxley Lennon, is of course campaigning to become an MEP in the region.
In cities and towns across the North West, anti fascists in Liverpool, Manchester, Preston, Crewe, Salford, Fleetwood, Morecambe and elsewhere, distributed many thousands of leaflets. The message is 'Use your vote against the fascist Robinson'.
There is a great mood among Unite Against Fascism and Stand Up To Racism campaigners. No one however is complacent about the threat Robinson poses.
Post workers, civil servants, local government workers, students and many others held lively stalls and spoke to many people.
MP Cat Smith joined the Lancaster SUTR  stall and MEP Julie Ward, spoke at the Manchester SUTR/UAF rally.
When a small group of Robinson supporters tried to intimidate anti fascists in Liverpool, a large crowd gathered and far right thugs backed away from confrontation.
Whilst leafleting continued, two SUTR /UAF rallies in Manchester and Liverpool heard from a variety of speakers.
Metro Mayors for the cities of Manchester and Liverpool, Andy Burnham and Steve Rotherham, underlined the need to keep mobilisng till the final minutes, next Thursday.
Andy Burnham said, " we must unite against the threat the far right pose" and thanked UAF and SUTR and trades unionists "for all that you have done and are doing. The far right is a menace and must be stopped. Tommy Robinson is a threat to our values and to our democracy here in the north west."
After a day of leafleting on the streets, Andy Burnham, Wendy Olsen of the Green Party, and Stretford and Urmston MP Kate Green, spoke in Manchester. In Liverpool at the same time, anti fascists heard from Debbie Brannan from Unite the Union and Anna Rothery, Mayoral lead for Equality & race equality.
 Andy Burnham reiterated that 'Tommy Robinson is a threat to our values and to our democracy here in the north west.
'Often on the left we have disagreements. But on this question I am in total agreement with Jeremy Corbyn and John McDonald, and with Wendy here from the Green Party. We all need to unite against fascism.'
'Remember  Robinson came to Manchester after the Arena attack. He wanted to turn most of the city against the Muslim community. That's why he came here.'
'I have been heartened by the campaign we have seen on the ground' against Tommy Robinson.
In conclusion Andy Burnham said, 'We are proud of what we stand for. Equality, diversity, and solidarity. Always against discrimination, racism, and fascism. Don't let them divide us. We are always stronger when we stand together.'
Earlier, Labour leader, Jeremy Corbyn told a a large crowd in Liverpool that the "far right…blame muslims for all the ills of society.
"Change that language to the language used in Germany in the 1920s and 1930s, where they tried to blame Jewish people for all the ills of society. You begin to see where this leads to. We have to come together not just to oppose the far right but also to analyse what's happened… how we fix it and how we go forward."
Nahella Ashraf, from Stand Up To Racism, has been central to organising the campaign.
'Today we have taken the campaigning against Robinson to towns across the region. All over Manchester, but also in Oldham and Heywood, in Liverpool and Chester, and in Crewe. We have a quarter million leaflets all with the message: Use you vote to stop the fascist Robinson being elected.'
'People are out leafleting door to door. Next week we will be at the train tram stations, outside supermarkets, and at the school gates when we pick up the children. This campaign is about stopping him getting elected.'
Locals in the North West were joined by supporters from UAF and SUTR from Sheffield, the Black Country, Birmingham, Leeds and other areas.
The day left all anti fascists in good spirits. Tomorrow, Sunday, Robinson is threatening to visit Merseyside. UAF, SUTR and many others will be both leafleting and looking to counter Robinson.
In Oldham on Saturday evening, Robinson's thugs tried to intimidate local Asian youths, but were forced to curtail their racist provocation.
Whatever the result is, anti fascists are pulling out all the stops against Robinson. More on the campaign can be found here, https://www.facebook.com/ManchesterStandUp/ and here https://www.facebook.com/ManchesterUAF/