Last night in the North West town of Barrow, ex EDL founder, 'Tommy Robinson' aka Stephen Yaxley Lennon, came a cropper!
Robinson, standing as an independent and aiming to become an MEP in next week's European elections, met the wrath of local anti fascists. The anti fascist protest and strong message that he wasn't welcome, met with good support from locals. Robinson's come uppance has been seen online by many thousands and well received by many in the North West, sickened by the far right thug's racism and violence.
As Paul Jenkins, North West UAF organiser said, "UAF, Labour Party members, trades unionists and school students, when we heard Robinson was coming to our town, thought we're not having that! There was a fantastic turnout from people angry that the person spearheading targeted hatred of muslims and others was to be here.
"In just a few days, up to 150 opposed to Robinson gathered by the Town Hall. It was a brilliant mix of people who are determined that the main fascist in this country will not become an MEP. They were young, old, black, white, those of faith and those of no faith. Furness College students union had a delegation, for instance. It showed people's rejection of Robinson. Local musicians also drowned out Robinson's hate.
For us, there were speeches from Labour PPC Chris Atree, Unite the Union's Gail Bundy, and  Barrow TUC. All back efforts to see a huge turnout in the election and use our vote to see Robinson off. He needs just 8% to gain a seat, thus, voting matters next Thursday."
Less than 24 hours later, Robinson had online donations to him stopped, below. Since being barred from Facebook, YouTube and Twitter, Robinson has recently been gaining funds via Stripe, online. Stripe, a US based firm have yet to comment.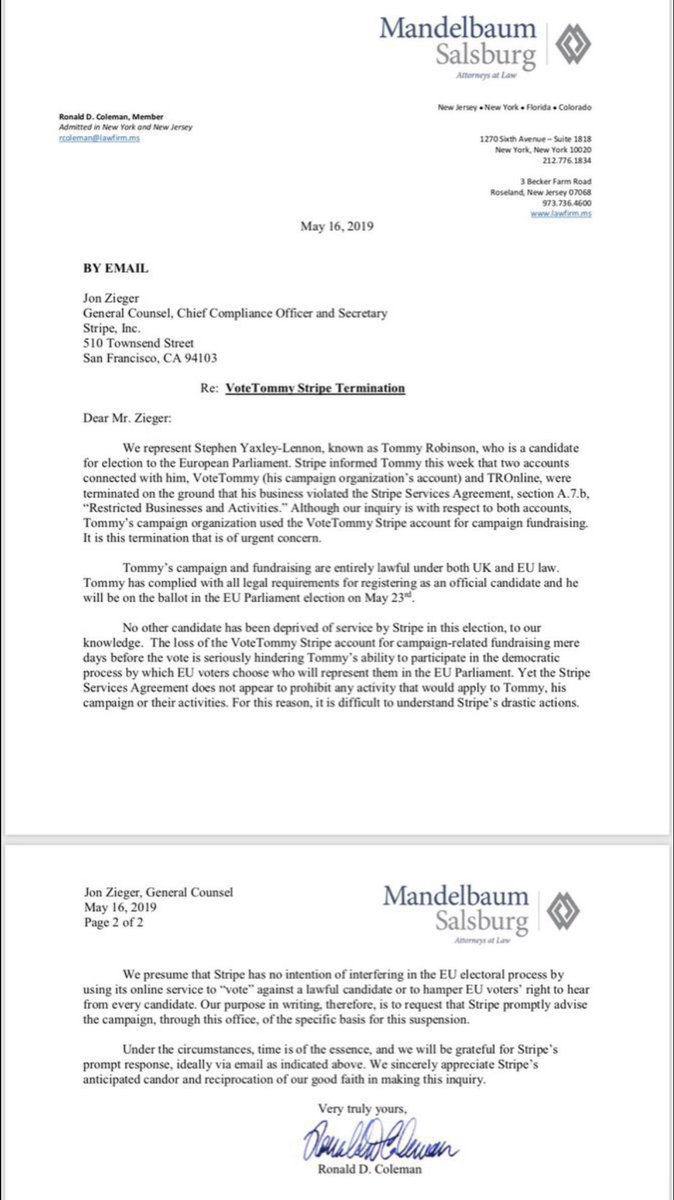 Coming in the week that Robinson was told he will face proceedings over alleged contempt of court at the Old Bailey in July and his being sued for libel, by a Syrian refugee, this rounds off a poor week for him.
His base of support will no doubt see such matters as a sign that 'the establishment' is out to get him. The truth is that again, whatever befalls Robinson is down to two key factors. One is his continual ego driven inability to proceed as any candidate might in an elections, despite his supposed anti establishment pose. His recent and future court cases result from his own despicable actions and scapegoating of muslims. Another spell behind bars is on the cards for the fascist.
Secondly, as Barrow saw last night, anti fascists uniting in purposeful, determined action, show the forces that can stop Robinson. This weekend will see a number of activities organised by Stand Up To Racism and UAF. They include mass leafletings, rallies with Labour Mayors such as Andy Burnham and Joe Anderson and others. Details can be found here, https://www.standuptoracism.org.uk/keep-racism-out-of-the-elections-we-are-organising-to-stop-the-far-right-and-fascist-tommy-robinson-join-the-campaign
Robinson is set to be in Merseyside this weekend. Anti fascists locally have of course a fine track record of opposing the far right and Robinson will face many who detest his poison. Anti fascists in the North West have mounted an excellent campaign and are going all out to encourage people to vote against Robinson.
The higher the turnout, the less chance the ex EDL thug has of gaining a seat. Best to all in the North West and those coming from across the UK, to beat Robinson.