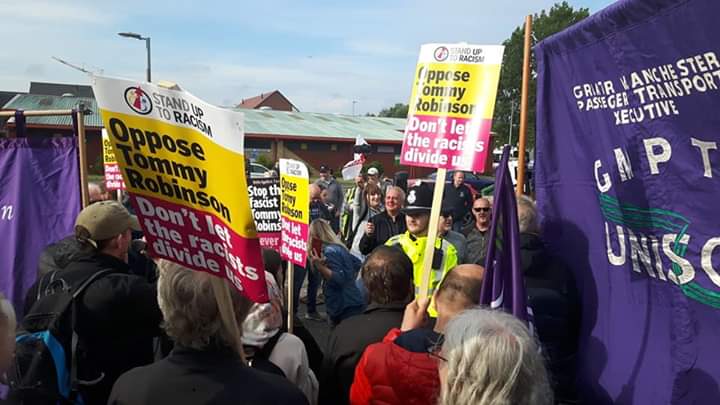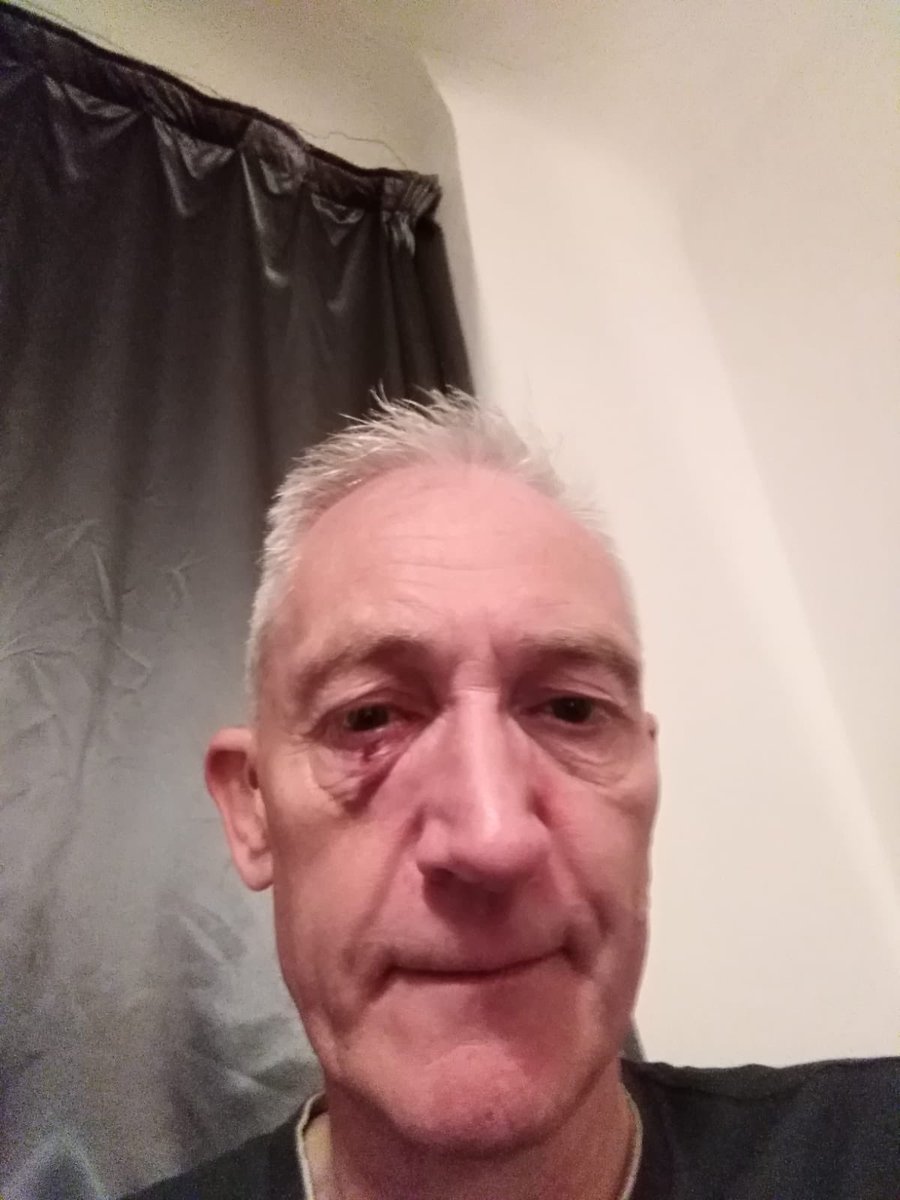 Arrests followed attacks on anti fascists who were protesting at the final rally held by 'Tommy Robinson' aka Stephen Yaxley Lennon, in Salford, in the North West, last night.
Ex English Defence Leader, Robinson, is standing to become an MEP in the region. Anti fascists in UAF and Stand Up to Racism have  fought an excellent campaign to try to stop Robinson's aims.
Anti Robinson supporters included trades unionists from various unions, including a large delegation from Salford Unison, Momentum members and students.  As their protest was ending they had bricks and eggs thrown at them. One, pictured above suffered a bad gash from a rock. Two anti racists also suffered bruising and cuts after coming under attack.
Around 50 Robinson followers were involved in the violence.
Nahella Ashraf, chair of Stand Up to Racism in Manchester, said bricks were thrown at their campaigners by youngsters as they were being led away.
Nahella said: "As activists left the SUTR rally we were attacked by a large group of Tommy Robinson supporters throwing, eggs, bricks and bottles.
 "Tommy Robinson is a fascist and has no place in mainstream politics.
"We urge everyone to use their vote to ensure he does not get elected as an MEP."
Earlier, Tommy Robinson supporters were filmed mocking chants of 'Holocaust – Never Again!' and 'Six million dead – Never Again!' here, https://www.facebook.com/ManchesterStandUp/videos/1801361573342534/?epa=SEARCH_BOX
The video footage  was taken at the far right leader's rally in Salford, last night.
As anti-fascists chanted 'Six million dead – Never Again!', supporters of Robinson can be seen dancing and mocking the chants.
They continued as the anti-fascists shout 'Auschwitz – Never Again!' and 'Six million dead – Never Again!' One Robinson supporter also gestures two fingers as the chanting continues.
Paul Jenkins, North West Regional Organiser for Unite Against Fascism, said: 'Members of local trades unions, Unite Against Fascism and Stand Up to Racism, were protesting against the fascist Tommy Robinson's rally in Salford.
'Robinson has marched with Neo-Nazis in Poland who chanted anti-Semitic slogans.
So we chanted 'Holocaust – Never Again', because we say Robinson is a fascist and we must never allow the horror of fascism and the Holocaust to be repeated.'
'When we chanted, some of Robinson's supporters can be clearly seen mocking – and dancing in response … This is an insult to the millions of people killed by the Nazis and is an insult to all those who lost family members in the Holocaust.
'It also shows the fascist involvement at the heart of Robinson's movement.  He was a member of the fascist BNP.  Anyone thinking of voting for him should re-think after watching this video.
But it is also vital that everyone in the North West who opposes Robinson comes out to  vote against him at the European Elections, today, on 23rd May.  Don't let him get elected with the small percentage he needs to win an MEP seat in the North West.'