Anti-fascists protested against supporters of jailed fascist 'Tommy Robinson',nee Stephen Yaxley Lennon,  in central London on Saturday.
Anti fascists assembled at Piccadilly Circus and marched up towards Oxford Circus where the fascists were. There were at most about 400 on the pro Robinson protest. It was organised after Robinson was put behind bars yet again, after being found in contempt of court.
The united march brought together two counter-demonstrations. One was organised by Stand Up To Racism (SUTR) and Unite Against Fascism (UAF), and the other by a coalition of groups led by London Anti-Fascists.
SUTR said that "around 800 anti-fascists" protested. Chants of, "Whose streets? Our streets," and, "Tommy Robinson in a cell—take your Nazi mates as well," dominated as the march made its way up Regent Street. It was young and many were on their first anti-fascist protest.
SEIG HEILING
Police blocked the anti-fascist march when Oxford Circus was in sight, but people pushed on through the side streets towards the fascist rally outside BBC Broadcasting House. Along the way two small bands of "Free Tommy" supporters tried to rush into the crowd to attack anti-fascists. One openly seig heiled, behind police lines, https://www.facebook.com/watch/?v=2160823804028243
They were aging 'Chelsea Headhunters',  notorious football hooligans who have long been connected to the extreme right, uaf.org.uk/2018/06/football-lads-alliance-and-democratic-football-lads-alliance-merge-as-islamophobic-street-movement-develops/
The thugs were rebuffed and tried again to attack anti racists near the BBC. Again, they failed in their drug fuelled attempts.  Anti-fascists rallied outside the BBC at Portland Place, separated from the fascists by police and barriers.
A bigger  group of fascists  later  tried to charge into the back of the protest.  Anti fascists stood firm and police eventually moved in on the far right. The counter-protest ended later in the afternoon as anti-fascists marched off together away from the BBC, chanting as they went. A small group continued to march through the streets after it had dispersed.
Motley far right crew
Roughly half of the fascists broke away from their main rally outside the BBC.  They were clearly bored and upset with the relatively small numbers for a national demonstration.  Some from Birmingham were openly wondering, "where is everyone"?
The breakaway marched up and down Regent Street apparently looking for anti-fascists. They dispersed after a brief scuffle with police, and the main rally began to shrink. Some tried to attack some Algerian protesters who had arrived nearby. Others blocked Westminster bridge, for a short while.
Trades unionists on the anti fascist march are to raise concerns with elected London representatives for the way violent, known fascists were able to roam around at will whilst anti fascists were zealously policed.
Main Robinson organiser 'Danny Tommo', who was part of an attempted attack on anti racists, told his dwindling crowd they would leave "once the police have moved the left". Over 100 racists marched from the BBC to Whitehall.
When police cleared them from outside Downing Street, they surrounded a small group of Sudanese people on a democracy demonstration.  Some fascists told them, "Go back where you come from". Echoing Donald Trump's infamous attack on the "Squad", some on the Robinson rally carried 'Trump for re election' posters. A car driven by a BME person was the subject of vicious racism by two Robinson supporters.
The Robinson demonstration's size and composition was a complete contrast to just over a year ago, when over 10,000 marched in support of Robinson, www.standuptoracism.org.uk/nazi-salutes-and-violence-mark-far-right-free-tommy-robinson-demo/
Saturday saw, unlike last year, little of the money that was pumped behind Robinson from oversea backers and no notable speakers. Instead, Danny Tommo, below,  had to plead with people to stay and has been widely criticised by other far right activists for "dragging the movement down for his own glory". The old bus from which he ranted had an inaudible PA, which added to the fragmented and directionless day for the far right..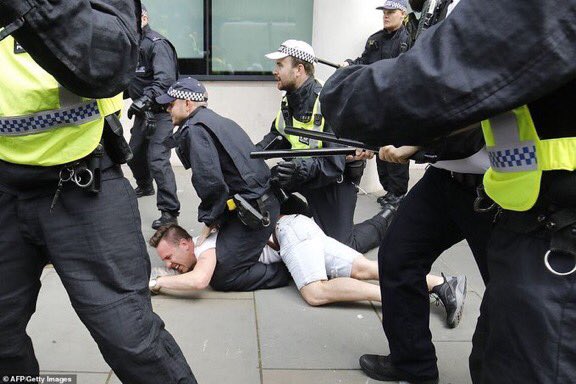 A few Generation Identity flags, below, mixed with For Britain banners. But no far right group was heavily represented. One striking absence was aside from a few East London individuals, the lack of any so called Democratic Football Lads Alliance presence.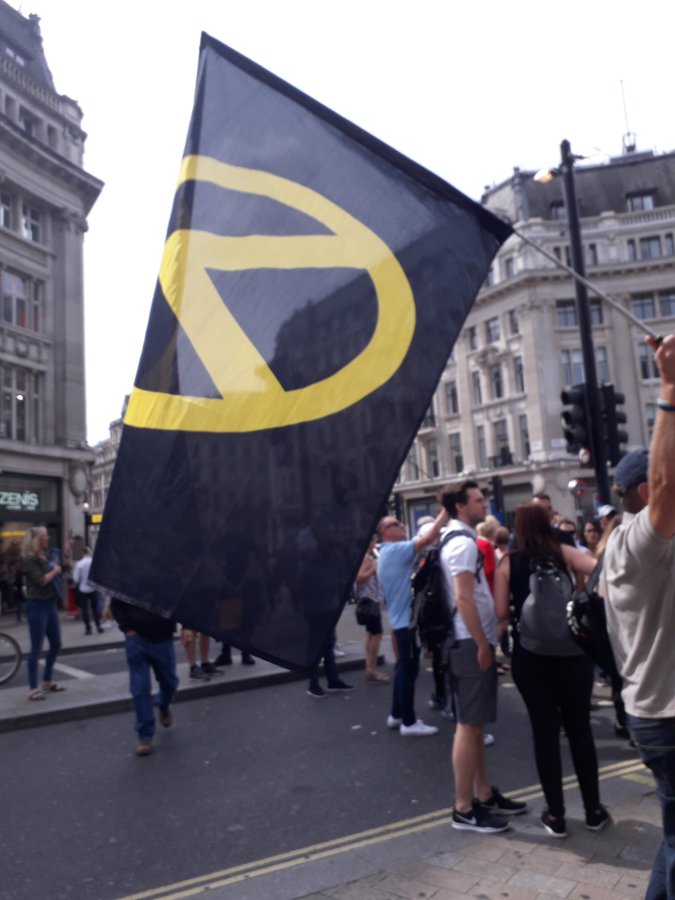 The DFLA had not mentioned the demonstration on their private social media and their lack of support for Robinson is palpable. Increasingly, DFLA members view Robinson as "suspect" and one who has taken far too much "money off the movement". This has been the case for a while and the DFLA said they are now "an autonomous group", code for for freelance, right wing aggression.
Weyman Bennett, joint secretary of UAF , said, "Tommy Robinson has a history of promoting fascist organisations. Days like today show the true nature of his supporters – racist and Islamophobic to the core.  We stopped Robinson when he was in the English Defence League. We stopped him becoming an MEP. We'll stop him from building the racist street movement he craves.""
But the far right continues to feed off racism against Muslims, migrants and refugees – and so the threat remains. The EL Paso terror massacre, the day after the Robinson rally, is horrific evidence that white supremacists are encouraged by racism at the highest levels in society.
Joint UAF Secretary, Sabby Dhalu said,""Today showed that all the work done by anti-fascists to challenge and expose Tommy Robinson, from counter demos to election campaigns has a major effect. As Boris Johnson positions himself at the head of a Trump-like movement in Britain, it's vital we continue to unite against fascist groups and the bigotry that emboldens them".