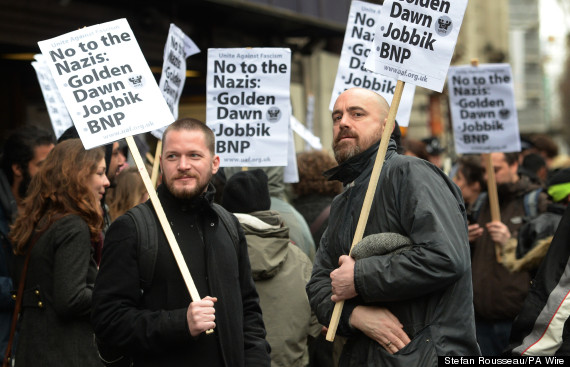 UPDATE – Friday -Unite Against Fascism (UAF) will oppose tonight, in London, at Gloucester Rd tube, the fascist leader of Hungary's Jobbik.
Gabor Vona of Jobbik had been due to speak at Kings College, in London, but due to anti fascist pressure, had his meeting 'postponed'. We sincerely hope the meeting is cancelled, for the long term. Jobbik supporters in London are now to gather at Gloucester Rd tube, from 5.30pm, to try to hear Vona's hate speech.
UAF will be there to oppose them. We will meet at 5pm outside the tube.
Unite Against Fascism welcomed the decision by senior management at King's College London, who have 'postponed' a meeting which would have featured the leader of the fascist Hungarian, Jobbik party, Gabor Vona. Vona should not have been invited. Vona
had been due to speak at King's College, London, on the Waterloo campus, this Friday.
Jobbik is one of Europe's main fascist parties. It has 24 MPs, three MEPs and is second in the opinion polls, in the run up to April's elections.
It has led violent pogroms against the Roma and  seen members assault refugees trying to seek sanctuary in Hungary.

Jobbik claims to have 'modernised' but at its core is a fascist message aimed at Roma, muslims and all who oppose its hate.
Next month Hungary goes to the polls. The reactionary, right wing party Fidesz, is being challenged by Jobbik, who have pushed Fidesz into aping some of Jobbik's views.
It would have been abhorrent to have had Vona at Kings. We congratulate the many staff and students at the college and UAF members who have campaigned in the last few days to have Vona stopped. No doubt he would have used such a prestigous institution to gain respectability.
UAF Joint Secretary Weyman Bennett said.
"It was good that due to the many staff, students and anti fascists at King's and beyond, who worked tirelessly, Vona couldn't put out an anti Semitic and islamophobic message on campus. Hungarian anti fascists deserve all the solidarity they can get and we will, again, oppose Jobbik. Coming in the week, where the far right have polled well in the Italian elections, we must resist the rise of the new fascists.

Fascists such as Vona should know that UAF and other will seek to curtail his poison, when he looks to gain support from Hungarians in the UK. We will march in the UK in London, Wales and Scotland, on March 17th, against today's racists and fascists."