A notorious nazi activist has been jailed for stirring up racial hatred after the Crown Prosecution Service (CPS) had initially declined to prosecute him. Jeremy Bedford-Turner,  called for his "soldiers" to liberate England from "Jewish control" in a speech at London's Cenotaph in 2015. The ex Army man was handed a year-long jail term at Southwark Crown Court, yesterday.
Turner is well known to anti fascists (see below). He claims to have been involved with the National Front and the British National Party. He also alleged he was thrown out of the army after they discovered he was a fascist. More recently, he was the key mover behind the London Forum. The Forum and its regional offshoots is a collection of far-right discussion groups. Figures such as the disgraced nazi David Irving, Alison Chabloz and Vincent Reynouard, have spoken at its functions.
With shadowy figures such as ex BNP organiser, Larry Nunn, aka Max Musson, Bedford Turner was able to bring together nazis from across Europe and the UK . The nazi terrorist group National Action had key members go to speeches at Forum meetings. However, exposure and protests by anti fascists have led to the London Forum not operating for a year and there must be a question mark over its future, given Bedford Turner's imprisonment.
The Crown Prosecution Service had initially said the fascist would not be prosecuted for his anti Semitic, hate speech. However after diligent work partly by Searchlight Magazine, a legal challenge was brought against Turner by the Campaign against anti Semitism.
Turner made his poisonous speech in Whitehall, London. Originally, in an affront to the Jewish community, he and his rag tag band of followers wanted to hold an anti Jewish demonstration in Golders Green, an area of London well known for a high proportion of Jewish residents. This was blocked by police and relocated to Westminster.
As the picture below shows, Turner and co were heavily outnumbered by several hundred anti fascists. Open nazis, including ex BNP, Polish NOP fascists and Combat 18 thugs were penned in. They were only able to be there due to heavy police numbers.
Anti fascists and journalists protested on the day about Turner's clearly anti Semitic and foul incitement, but only yesterday was the nazi finally brought to book.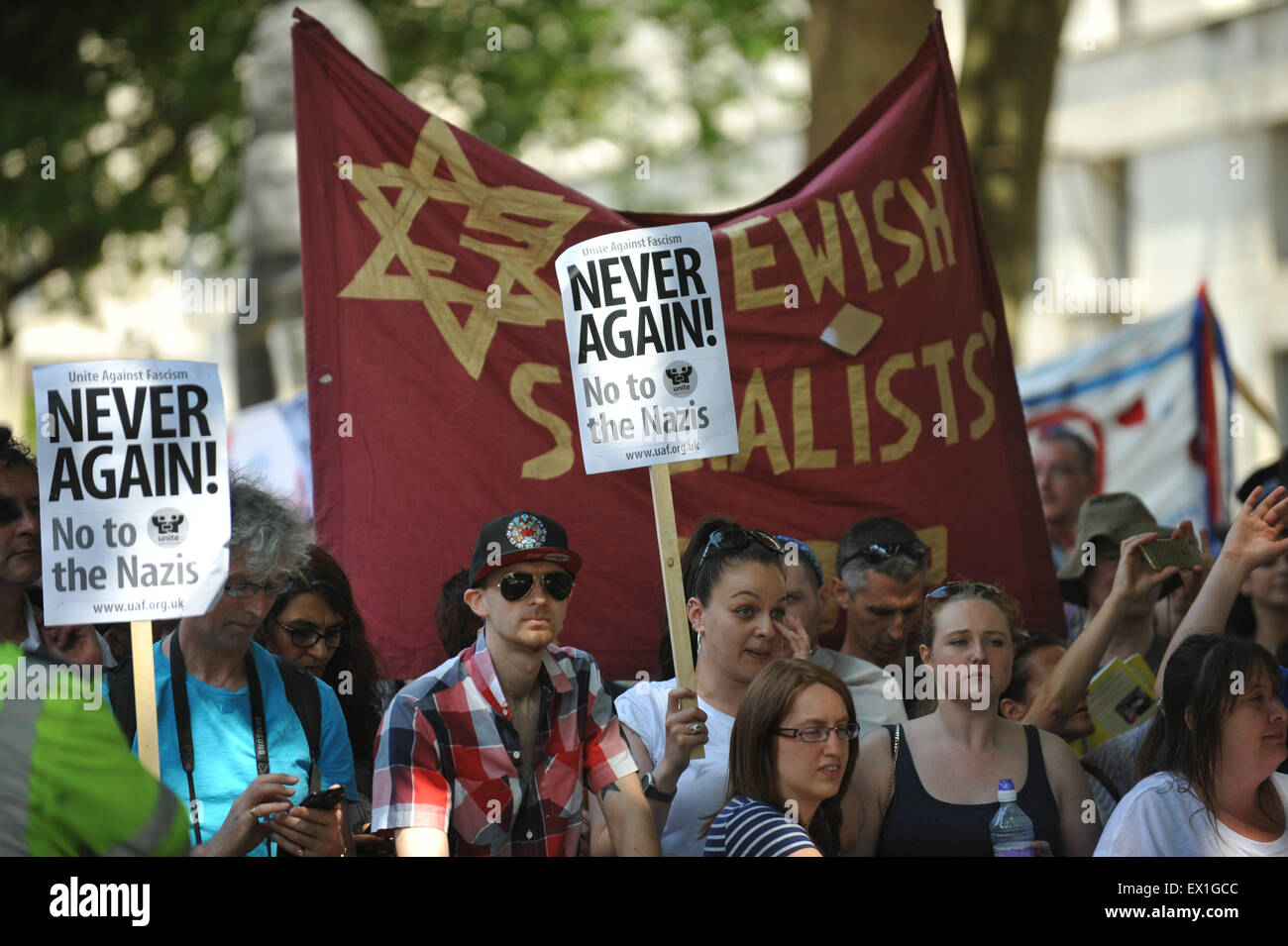 Judge David Tomlinson described his speech as "poisonous" and "sinister". In the speech, which was made on 4 July, 2015, Bedford-Turner said "let's free England from Jewish control. Let's liberate this land… "Listen, soldiers, listen to me. It's time to liberate our country."
During his trial, Bedford-Turner, admitted wanting all Jewish people to leave the UK. Prosecutor Louis Mably QC said the defendant "despised" Jews and he was "absolutely obsessed". Nazis gathered in court to hear the guilty verdict.
A jury convicted him of one count of stirring up racial hatred following two hours of deliberation.
Sordid history
Bedford Turner has been at the centre of various nazi events and marches in recent times. From Dover in Kent in 2016, when various fascist groups attacked anti fascists to Liverpool in 2015 when the nazis of National Action were run out of town by locals and anti fascists, he has looked to 'unite the right', the most extreme right. Anti fascists have played a role in undermining his ambitions on several occasions.
He has links with overseas nazis and on occasion has looked to take a leadership role with groups such as the virtually defunct South East Alliance and the National Front. No nazi gathering has been without his noxious presence in the past few years. However, despite his efforts no such unity of the far right has materialised and prison will put a spanner in his plans.
As Weyman Bennett, joint Secretary of UAF said, "This is welcome news. Bedford Turner made a disgusting, anti Semitic speech, in Whitehall, in 2015. He should have been taken to task for this, far earlier. There can be no place in our society for views such as his. We must keep organising against far right individuals and groups, such as Tommy Robinson and the Football Lads Alliance.
The tide of islamophobia and race hate needs challenging at all levels".