The main text here, was written on Saturday. Below is further analysis and news of anti fascist responses to the far right.
Well done to all who opposed the racists and fascists in London and York on Saturday. The rally in support of Tommy Robinson in York completely flopped, but London was a different story. Up to 15,000 turned out in Whitehall for the far right's imprisoned poster boy.
The scale of the far right's turnout and the vile, violent racism informing it must be seen by everyone on the Left as an urgent wake up call.
The hate rally for Robinson ended with hundreds of racists attacking the police in Trafalgar Square. They charged at officers in Whitehall, before staging running battles with the police.
And earlier, hooligans associated with football firms from Millwall and Chelsea tried to attack Stand Up To Racism and Unite Against Fascism supporters in Whitehall.
At least two journalists were attacked by Robinson supporters. One was viciously kicked to the ground by a group of fascists. Police are understood to have made nine arrests eg one person for possession of an offensive weapon, two for assault on a police officer.  The Metropolitan police are now looking at CCTV footage of the Robinson demo.
Backers of Robinson pulled the biggest numbers seen on a far right rally for a number of years. It was larger than the EDL had managed. Openly racist speeches were cheered by often-drunk crowd members.
But this was much more than an EDL 'mark 2 demo'. Robinson supporters openly did the Nazi salute, see below.
Racism ran through their demonstration, with vicious Islamophobia at its heart.  
Some of this has now been reflected in the press, and was captured by Stand Up To Racism, https://www.facebook.com/StandUTR/videos/1505031139608716/
Apologist for nazi collaborators speaks at Tommy Robinson rally
One of the speakers at the Tommy Robinson rally in London on Saturday was Filip Dewinter, a leading member of the Vlaams Belang party in Belgium. He is seen by many as an apologist for nazi collaborators during World War II. Below is Dewinter, with key figures in Greece's nazi, Golden Dawn. Such are those who are rushing to defend Robinson, among them, ex White House key Trump adviser, Steve Bannon and a Front National, ally of Marine Le Pen. Moreover, their longer term project is to revitalise the far right in the UK, as part of a European alliance of the 'populist' and far right.
Vlaams Belang is a fascist party that campaigns against Muslims and multiculturalism. Dewinter is a key member, which was formerly called Vlaams Blok, and one of their MPs in the Flemish regional parliament.
Vlaams Blok had to be formally disbanded in 2004, after their vice-president questioned the number of Jews killed in the Holocaust and the authenticity of Anne Frank's diary on Dutch TV.
Dewinter has a history of celebrating the party's close links to wartime Nazi collaborators. In 1998, he visited a cemetery to lay flowers at the graves of 38 Belgian SS members who fought for Hitler's regime. Dewinter was also a guest speaker at a gathering of SS-collaborators in 2001. He began his speech with the motto of the SS, 'my honour is my loyalty'.
.
Dewinter and his party have made previous attempts to make links with fascist groups in other European countries. The British National Party's Nick Griffin also attended a conference organised by the Vlaams Belang in 2006, which was aimed at building solidarity between fascist groups across the continent.
In recent years, the Vlaams Belang has built upon vicious campaigns against Belgium's Muslims. In Whitehall  Dewinter screamed "we are all Tommy Robinson" and claimed that the former EDL leader's arrest was an attack on "everyone who is fighting mass immigration and Islamisation".
He claimed that the elite in Europe is already "submitting to Islam and imposing sharia law".
Mobilisations – The same forces who brought together Saturday's racist rally for Robinson have called another central London demo for July 14th. This of course, is around the visit of the arch islamophobic bigot and sexist, Donald Trump, to the UK.
Many around Britain will be demonstrating against Trump in the run up to July 14th, so it's an opportunity to generate fresh forces to the counter demonstration called by UAF and Stand Up To Racism, event page here, https://www.facebook.com/events/169517280565963/
All who detest Trump and the far right and fascists he encourages can be contacted to be in London, particularly after what will be a large anti Trump demo, the day before in London. Clearly, the violence and racism of Robinson's thugs has alarmed many. The task now is to use that sense of anger and disgust into broadening out active support across the movement, for counter mobilisations. Watch this space.
Opposing Anne Marie Waters in Lewisham
On Saturday in Lewisham, up to 200 people attended a SUTR rally in solidarity with the local mosque against the racist Islamophobe, Anne Marie Waters' For Britain party standing in a local by election. Many had come  from the Tommy Robinson counter demonstration.  Mobilising motions to this affect are now being circulated around local trade union branches and CLP's.
Lewisham SUTR have organized to oppose Anne Marie Waters speaking at the Lewisham East by-election hustings on 12th June, tomorrow, in the Salvation Army hall. After numerous requests from community groups, the organisers still plan to give her a platform. See the FB event here
In Leeds Stand Up To Racism held a  well supported vigil following the attacks on a local mosque and Sikh Gurdwara on Sunday,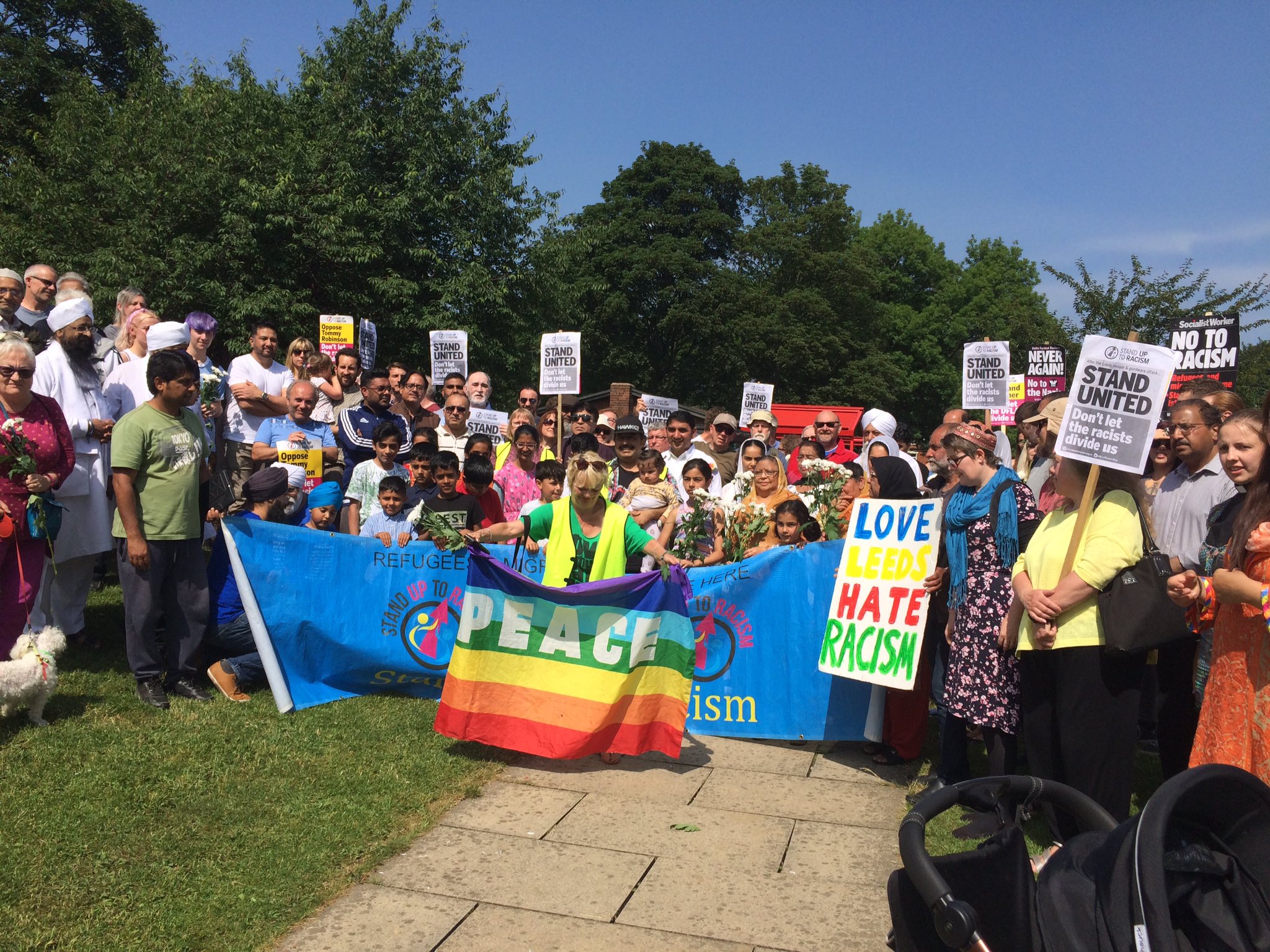 There is also a demonstration against the fascist supporters of Tommy Robinson, in the North East, on June 16, event page here, https://www.facebook.com/events/364581987383738/
Far right Fall Out
There has been some conflict among those who were organising Robinson's rally. Last week, Vinnie Sullivan, friend of the far right  Generation Identity sect, was removed from the job of facilitating the demo. Sullivan who targets anti racists on a regular basis, through social media, has come in for severe criticism from his former co admin for last Saturday's event page, below.
Above is a serious allegation.  Sullivan came in for attacks following his hosting of the small FLA demo in Manchester recently and now is openly being questioned as to his real motives. It is a small example of the often fractious nature of the far right and the tensions within.
 ALT Right
Far right hipsters from Generation Identity mingled next to old National Front members. Firms from football hooligan groups from Portsmouth to Leeds, including several from the West Midlands, were there in numbers. Ulster loyalists were also present. Tiki torches, associated with the American fascists' 2017 rally in Charlottesville where antifascist Heather Heyer was killed, were on display.
UKIP flags and For Britain placards were waved as a variety of far right speakers called for Robinson's release.
Geert Wilders, the notoriously racist Dutch MEP spoke at length. He called Robinson, the 'bravest man in Britain' and ranted that 'we are foreigners in our own lands'.
Steve Bannon, former key aide to Donald Trump, sent a message of support, saying he wished he was present.
This shows how key Robinson is for the international far right. Bannon is engaged in trying to unite various right wing forces in Europe and America. Robinson and the support he has is obviously crucial to those who are building the far right in the UK and beyond. His spell in prison for contempt of court has struck a chord with the disparate elements of the far right and open Nazis. It is an uneasy mix, but a deeply dangerous one.
Ex-UKIP leadership candidate Anne Marie Waters, now leader of the For Britain party, made an extremely inflammatory speech, ranting that we have to do away with the 'iron grip of Islam'. Waters went onto to argue that 'the state and Islam are supreme in the UK'. She also claimed that the Grenfell disaster was 'accidental'.
She made a speech that overtly attacked Islam and which could have come from the likes of the discredited Nazi BNP, who many are now comparing For Britain with.
She claimed that there is an 'Islamic supremacy' in the UK. Gerard Batten, the current leader of UKIP, spoke of how 'this is the start', before asking people to join UKIP. He clearly senses that the new racist street movement has the potential to bring his wounded party back from the brink.
Ex-EDL deputy and Robinson's cousin, Kevin Carroll, also spoke. Many in the crowd were ex-EDL members who are now running with the DFLA, a split from the Football Lads Alliance.
Other speakers included Janice Atkinson from UKIP. But it is the international alliance of Wilders, Bannon and Batten which is most significant.
Using extreme Islamophobia, elements of the far right see the jailing of Robinson as the glue to hold the fast-growing street movement together. For now, football firms who are usually at each other's throats have raised Robinson as a figurehead to unite around. The political vultures of UKIP aim to give political coherence to the street thugs (although they were noticeably absent when the police were attacked). Differences between UKIP and Waters are, for now, on hold.
Stand Up To Racism and Unite Against Fascism rallied down from the Robinson rally, towards Parliament Square. There were trade unionists from the RMT, UCU, CWU, UNISON, NEU and elsewhere. Some activists brought Labour Party banners too.
All this is welcome.
However, the disparity in size between antifascist and far right forces now assumes a real urgency.
There were good delegations from the RMT, the CWU and others. These examples of trade union mobilisation must now be built upon.
The rapid growth of the far right on the streets of the UK has been beaten back before. Mass mobilisations are the key.
A number of trades unionists are, as this is being written, discussing the necessity to convince many more of the urgent need to oppose the far right.
Weyman Bennett from StandUpToRacism said: "Robinson is being held up as a martyr but wherever his support grows so does racism, hate and violence. In Leeds where he was arrested first his supporters marched through the city shouting Islamophobic slogans then, a few days later, a mosque and a Sikh temple were hit by arson attacks.
The rally for Robinson is an attempt by the racist right to launch a new, violent, Islamophobic movement, on the model of what we've seen in many European countries."
Michael Bradley from Unite Against Fascism said: "We are sounding the alarm to the trade union and labour movement. These are not cranks who will disappear of their own accord. We need to build a mass movement to drive these people back. Left unopposed their protests will grow and racism and violence will grow with them. They are using the same kind of rhetoric against Muslims as was used by the far right in the 1930's against the Jews. We have to learn the lessons of history".