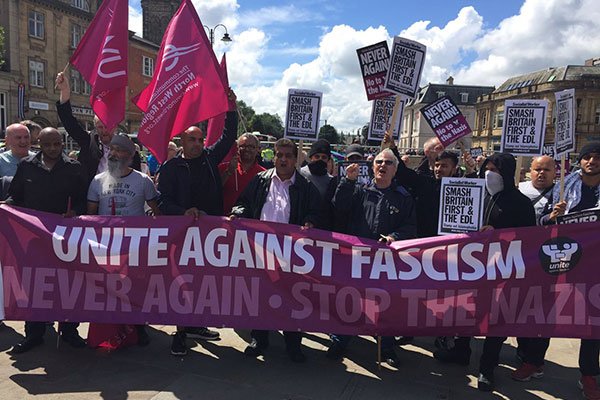 In a key development, anti racists and anti fascists are set to hold a national demonstration against the growth of the far right in the UK, on Saturday, November 17. To quote officers from Stand Up To Racism,
'We are experiencing the biggest rise in support for fascism, the far right, racism, Islamophobia and Antisemitism since the 1930s. In Britain fascists and racists are mobilising on a scale not seen for decades. We must unite against this threat. A range of national figures are supporting this national demonstration. We will shortly update with more details'.
The demonstration is initiated by Stand Up To Racism, and co-sponsored by Unite Against Fascism and LoveMusic HateRacism.'. A Facebook event page is here, for the event, https://www.facebook.com/events/1887445111550804/
Ex EDL leader, Tommy Robinson has had his court case, for contempt of court, postponed to September 27, a delay of some weeks. Robinson of course is appealing over his jailing for his so called 'reporting' of a highly sensitive case in Leeds, in May, http://uaf.org.uk/2018/08/after-fascist-tommy-robinson-is-released-from-prison-four-steps-to-take-on-the-far-right/
November's national march could not be better timed. Robinson is the key figure head of the far right, in the UK and in parts of Europe. The call out by SUTR has already been met with enthusiasm by many in the movement.
Today Saturday,  saw various far right events mostly small scale and one that turned into a non event.
In York, anti racists opposed a UKIP/Democratic Football Lads Alliance (the group which the FLA morphed into) march. Ostensibly, the far right were demonstrating in support of veteran soldiers rights, but their march was dominated by ex English Defence League and DFLA thugs. Two of the latter tried to intimidate anti racists; they failed.
Perhaps 100 joined the Stand Up To Racism counter demonstration, which outnumbered those they opposed.
Meanwhile in Huddersfield, above, what's left of the fascist sect, Britain First, were drowned out of town by over 50 anti fascists. The little Hitlers left the area after posing for ludicrous pictures. UAF. Stand Up To Racism, Labour and trades union members had just a days notice, but still managed to serve time on the unwanted elements, few, if any of who were locals.
Britain First who came to national attention after President Trump re tweeted them, are a shadow of their former, online presence., http://uaf.org.uk/2017/11/uaf-press-release-on-donald-trumps-retweeting-of-fascist-britain-first/
Just 12 of them then drove to Rochdale, to have a anti Muslim, hate event. In reality, they toured around in cars, and did nothing. Eyewitnesses told UAF, 'it was surreal, they went around part of town, but didn't have the confidence to get out of their cars. Their shouted, islamophobic abuse got the reception it deserved'.
In London, at around the same time, a group called Proud Britain, were to have held a 'Ban the Burka' protest at Parliament. For various reasons, this flopped and anti Muslim bigots have gone on line wondering what happened.
The increasingly ludicrous, V Sullivan, far right outrider for various thugs and friend of the white supremacist, group, Generation Identity was  a mover behind this hate meet up.  Some far right elements went to Hyde Park Corner, whilst others were left scratching their heads in central London, baffled by the no show.
Fascists who had turned up from the North of England in a few cases were left to vent their anger to each other. Some even postulate that those behind the day, were not serious in their intentions. 'A load of money wasted on wasters', was one of the more printable comments.
Next week, the rump of the EDL are to return to Worcester, where they were humiliated by anti fascists, last month, http://uaf.org.uk/2018/07/great-weekend-for-anti-fascists-as-far-right-pro-tommy-robinson-demos-flop/
Together with Worcester TUC and Stand Up To Racism in the Black Country, UAF supporters will be on the streets to reject the EDL, Facebook event page here, https://www.facebook.com/events/
Novmeber's initiative can be a crucial day for the mass movement we need to drive back the far right in the UK. UAF will be flat out to get the mobilisation we need.