Thugs who turned up at the Old Bailey in London to back ex English Defence League founder, Tommy Robinson, ripped a placard away from a woman anti fascist and subjected her to vicious verbal abuse, before police intervened, see here, www.independent.co.uk/news/uk/crime/tommy-robinson-protest-old-bailey-edl-leader-crimes-woman-student-free-hate-speech-
Robinson, the far right figurehead in the UK, had to be in court over a contempt of court case, background here, //uaf.org.uk/2018/06/analysis-the-growth-of-the-far-right-is-a-danger-to-us-all/
Stand Up To Racism and UAF supporters gathered to oppose Robinson's racist crew. They included trades unionists from Unite the Union, the NUJ, and BWFAU.
The retrial has now been adjourned, possibly until 23 October, to give lawyers more time to make written submissions of their legal arguments. The judge will then decide whether to have a full hearing of the case. Robinson remains free on bail and may use his liberty to further incite islamophobia. Following his appearance today, he again portrayed himself as a working class hero, a 'victim of the establishment'.  The reality is of course, the opposite. The ex BNP member has a long history of convictions and has a vile record of organising anti muslim hatred.
Robinson was originally jailed for 13 months over a Facebook Live video he broadcast from outside the city's crown court in May, but this was overturned last month and he walked free.  Court of Appeal judges ordered a rehearing, arguing the "alleged contempt was serious and the sentence might be longer than that already served".
Robinson went to court, with his cousin, Kevin Caroll, who he founded the EDL with in 2009. Significantly, Alan Lake, who helped guide and finance the EDL, in its early days was also, at the court, pictured below. His presence suggests far right ideologues like US based Pamela Geller and others are looking to take a more active role in the 'Free Robinson' movement. Lake aka Alan Ayling has kept something of a low profile after he was sacked from his well heeled job in 2014, http://uaf.org.uk/2012/08/edl-key-supporter-alan-lake-sacked/
Organisers and stewards had made some semblance of order at 9am, but this soon evaporated, as with the case of the woman above. This is no surprise. It was a rogues gallery of thugs who greeted Robinson today.
Ex nazi terror group Combat 18 members from East London rubbed shoulders with the youth group of white nationalists, Generation Identity. Several football hooligan firms from the Democratic Football Lads Alliance mixed with former EDL chief steward, Roger Firth. The person below's politics are clear and he was not challenged by any Robinson supporter,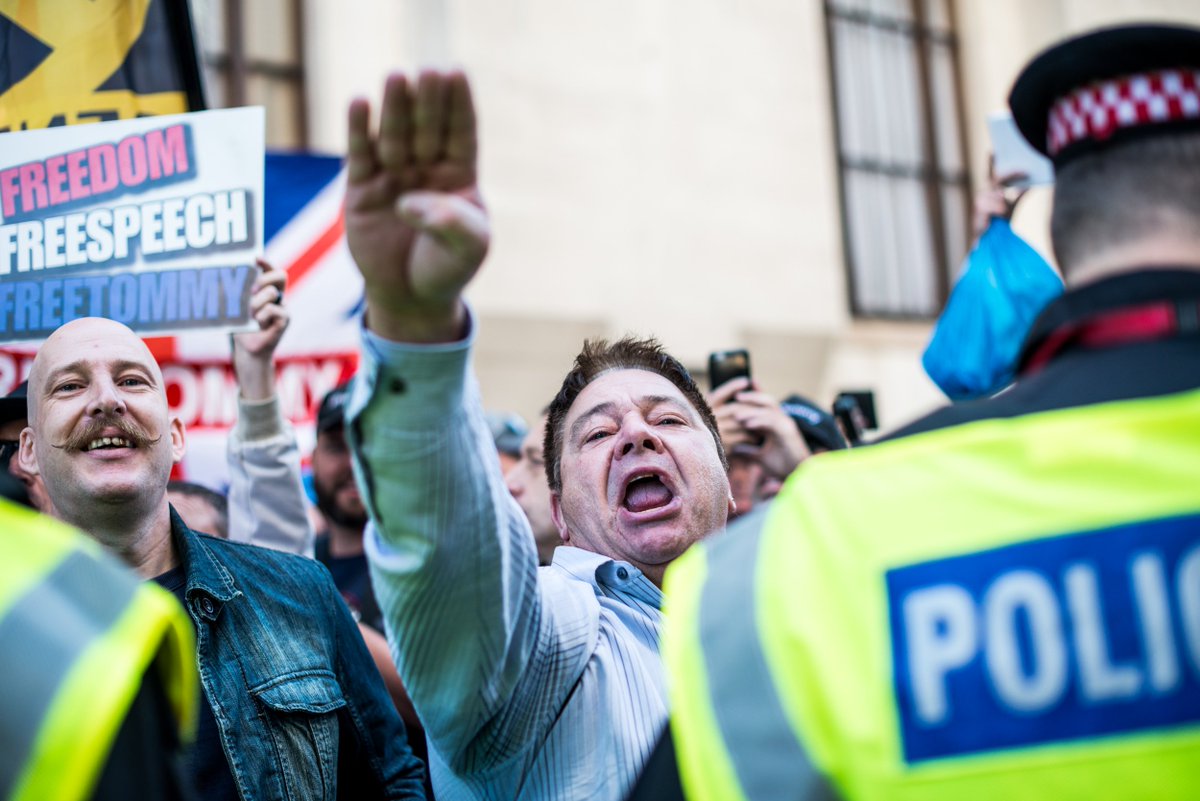 Following Robinson's jailing in May, many on the far right targeted trades unionists, the left and muslims. Bookmarks the socialist bookshop in London was attacked by so called, alt right, thugs, https://www.thebookseller.com/news/over-500-turn-out-support-attacked-socialist-bookshop-bookmarks-
Various threats were made both to journalists at the Old Bailey and anti racists. Some journalists were pushed and told, 'if you don't leave, you'll regret it'. The various far right forces who back Robinson show again  the growing links between the fascist, racist populist and extreme, conservative forces. Their growth  is being fuelled by racism pushed by mainstream  politicians and several tabloids against muslims, refugees and sections of the left.
Well heeled UKIP members waved flags alongside Anne Marie Waters For Britain members. The latter split from UKIP for a host of reasons. For Britain held a very small conference in the North West last weekend and it is rumoured that they are looking to rejoin UKIP. This would not be a great surprise, given the nature of UKIP leader Gerard Batten's views and both organisations links to the far right, around Robinson, particularly.
There are crucial key dates for anti fascists, ahead. The far right DFLA will be opposed on October 13th, in London, https://www.facebook.com/events/19486
On October 20th, there is a crucial chance to debate the way forward, with various international anti fascists providing essential experiences, book here, //www.eventbrite.co.uk/e/how-do-we-defeat-the-rise-of-fascism-racism-international-conference-tickets-
All of the above makes the national demonstration against racism and fascism on 17 November a key opportunity to push back the fascists and racists, details here, https://www.facebook.com/events/188